Do you know what Rdntrojanhacking File Detected is?
Rdntrojanhacking File Detected is another fake security alert that claims to be from Microsoft. It claims that your PC has been infected with malware and you need to call a toll-free tech support phone number to remove the supposed malware. However, the people impersonating Microsoft's employees will probably offer paid services, and their prices can be in excess of 500 US dollars. You can be redirected to the page hosting this fake alert by software or a malicious website, so you ought to scan your PC using a reliable anti-malware program to detect and delete malicious software. If you want to find out more about this fake alert, please read this whole article.
Let us begin with its possible distribution channels because it is important to know how it can end up on your PC. Our cyber security experts have concluded that this fake alert is hosted on http://webfixdeal.site/adn/ which was set to give you the impression that it is a Microsoft website because it has an image of the Microsoft website way back in the background.
Therefore, to get onto this tech support scam page, you have to be redirected to it somehow. There are two possible ways you can end up on this site. A malicious application may have infected your PC that was set to open this scam site at ransom while you browse the web. A link to it can also be featured on a website set to promote this scam. You may have to click the link to go to http://webfixdeal.site/adn/, but it is also possible that a website will run a malicious script and open this site in another browser window.
As mentioned, http://webfixdeal.site/adn/ was set to appear as a Microsoft website, but when you visit that site, the Microsoft portion of the site will be obscured by a blue error window as well as a browser-generated pop-up window. This pop-up window claims that data such as your passwords, browsing history, credit card information, and online banking history will be compromised. When you visit that this site, an audio recording will play a recording on a loop. The software-generated voice is set to claim that your PC has alerted Microsoft that it has been infected with a virus and spyware and also says that your PC will be disabled if you close the window as this supposed virus will magically damage the databases of Microsoft. They voice and the pop-up window suggests you call 1-800-894-0551 to get assistance. However what you will most likely get are offers to purchase the removal of the supposed malware, and they might also offer you to buy extra protection of your PC which you will not get. The people on the other end of the line are nothing more than scammers so you should not trust them or call them in the first place.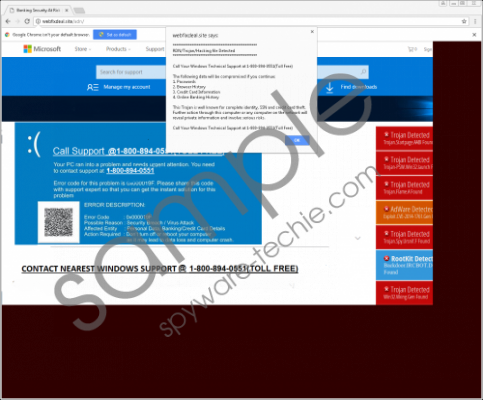 Rdntrojanhacking File Detected screenshot
Scroll down for full removal instructions
As you can see Rdntrojanhacking File Detected is nothing more than a fake alert that promotes a fake tech support phone number. The people impersonating Microsoft tech support may try to sell you fake and useless services. Therefore, if you PC has been infected with malware that redirects you to Rdntrojanhacking File Detected's website, locate and delete this program. If you cannot find it, use SpyHunter's free malware scanner and then go to the location of the detected malware to remove it manually.
How to detect and delete malware
Go to http://www.spyware-techie.com/download-sph
Download SpyHunter-Installer.exe
Install the program and run it.
Click Scan Computer Now!
Copy the file path of the malware from the scan results.
Press Windows+E keys.
Enter the file path of the malware in File Explorer's address box.
Press Enter.
Locate, right-click the malicious files and click Delete.
Empty the Recycle Bin.
In non-techie terms:
Rdntrojanhacking File Detected is a new tech support scam that you can be redirected to by malware or malicious websites. It will try to trick you into calling fake tech support in order to remove the non-existent malware that it claims to have infected your PC. However, what you need to do is delete the program that redirects you to the URL of this scam, provided that it is loaded by software.