Do you know what Razor Web is?
Razor Web is an adware program that spams you with annoying and potentially dangerous pop-up advertisements. This application has been created to generate financial profit whenever you get redirected to affiliated websites, and it does not really care about infecting you to malicious programs or the like. However, you will do yourself a favor if you remove Razor Web from your system right now. This adware program can be used to distribute pop-ups with corrupted content, thus adding up to the adware and malware distribution network. Needless to say, you have to avoid that no matter what.
When you are ready to remove Razor Web from your computer, do not forget for other potential threats as well. Adware programs usually come in software packages, which means that more than one program gets installed on your computer at the same time. Thus, if you have Razor Web on your system, chances are there are at least a few more annoying programs running on your computer as well. Scan the system with the SpyHunter free scanner to detect all the unwanted applications and remove them at once. Do not forget that adware and freeware apps are often exploited in online marketing tactics and even malware distribution, so you should not take any chances.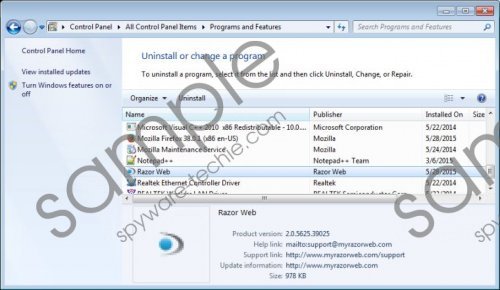 Razor Web screenshot
Scroll down for full removal instructions
According to our research team, Razor Web is another clone of Sale Charger, Assist Point, Strong Signal, Dragon Branch, Glass Bottle, and a number of other annoying adware applications. They are similar to the SuperWeb adware family; although we cannot say that the programs from both groups are identical. The common point would be that they are all distributed via bundled downloads. That is to say, Razor Web has an official homepage via myrazorweb.com, but, more often than not, users install this program accidentally when they set up some freeware app they have downloaded from a file-sharing website.
What's more, sometimes users do not even realize that they install unwanted applications because the freeware installation is triggered when users click some random pop-up or a fake download button on a third-party website. This means that you have to employ safe web browsing habits to avoid installing Razor Web and other unwanted applications that might eventually lead to severe computer security problems.
When Razor Web enters your computer, it adds an extension to your browser that is used to collect data on your web browsing habits. On top of that, Razor Web may promise to help you improve your online browsing experience, by providing you with the most relevant content, but we all know better than that. The pop-ups that are displayed by Razor Web often contain unreliable links to third-party sites that promote suspicious products. The advertisements will slow down your browser and expose you to unreliable third party content. In the worst-case scenario, by clicking a Razor Web ad you could end up getting infected with a malicious computer threat.
These days not only do cyber threats cripple target systems; they are also very good at stealing money from the unsuspecting users. You should not become their next victim. Please remove Razor Web right now, and then get yourself a licensed antispyware tool to make sure your PC is protected against similar intruders 24/7.
How to Remove Razor Web
Windows 8 & Windows 8.1
Move the mouse cursor to the bottom right of your screen.
When the Charm bar appears, click Settings and go to Control Panel.
Open Uninstall a program and remove Razor Web.
Windows Vista & Windows 7
Click the Start menu and go to Control Panel.
Open Uninstall a program and remove Razor Web.
Windows XP
Open the Start menu and navigate to Control Panel.
Select Add or remove programs and uninstall Razor Web.
In non-techie terms:
Razor Web is just one of the many browser extensions that generate pop-up ads on your browser. It might lead to dangerous computer security issues, so you should not ignore this nuisance. Please remove Razor Web right now following the instructions that we have provided in our description. Should you have any further inquiries on how to deal with adware or protect your computer from harm, do not hesitate to leave us a comment below.