Do you know what RayDownload is?
RayDownload is a free download manager that promises to help download software faster and better, which is why so many computer users acquire this program. We classify it as a potentially unwanted program (PUP) because it could be used in an undesirable way. Do you want to install malicious and unreliable programs? Of course you do not, but if you do not delete RayDownload, you might let in this kind of software without even knowing it. According to our research, this PUP can be exploited by malware distributors to spread malware that, needless to say, also requires removal. Unfortunately, this means that every time you use RayDownload, you run a risk of letting in malware.
The official installer of RayDownload is found at raydownload.com. This website was created by the developer of the PUP, WOODTABLE TECHNOLOGY INC., and it provides a link to the EULA document. This document reveals that RayDownload is operated with the help of undisclosed "partners and suppliers." In fact, the EULA and Privacy Policy documents associated with this PUP do not disclose any sensational information. This is because the potentially unwanted program itself is not malicious. The only problem is that it allows unreliable parties to spread malware, and this is why it is crucial to remove RayDownload. Unfortunately, you might have to remove malware even if you have not downloaded anything with the help of this supposedly beneficial download manager.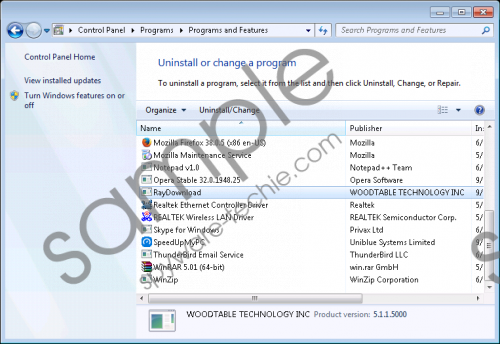 RayDownload screenshot
Scroll down for full removal instructions
If RayDownload appeared out of nowhere, it is likely that it was downloaded without your permission. It was found that, for example, Istartsurf.com can install this PUP silently. This search provider requires removal because it actually works as a browser hijacker, and it could take over your browsers illegally. We do not recommend using this search tool because it can expose you to unreliable content, and it could be used to spy on you. Of course, there are many other unreliable programs that could download RayDownload onto your PC illegally. We advise implementing a malware scanner to detect these programs, if they exist. You should use this tool even if you downloaded RayDownload yourself to see if this PUP is the only program that you need to remove from your computer.
The manual removal guide below was tested only with RayDownload. Use this guide to get rid of this PUP, but do not rely on it when it comes to the removal of other unreliable programs. If you need to delete ad-supported programs, browser hijackers, or malicious programs associated with this PUP, use a legitimate malware remover to eliminate them. If you have questions regarding the removal of RayDownload or other unreliable programs, start a discussion below.
Delete RayDownload from Windows
Delete from Windows XP
Click Start on the Taskbar.
Open Control Panel and move to Add or Remove Programs.
In the Change or Remove Programs menu select and Remove RayDownload.
Delete from Windows Vista/Windows 7/Windows 8/Windows 10
Launch RUN (tap Win+R on the keyboard) and enter Control Panel.
Under Programs/Programs and Features click Uninstall a program.
Right-click the application you want to remove from your PC and click Uninstall.
In non-techie terms:
The potentially unwanted program RayDownload is not reliable because it could open security backdoors for malware distributors to spread malware. When downloading software using this manager, malware could be slipped in without your notice. This is why it is crucial that you delete RayDownload. The instructions above show how to uninstall this program from Windows, and we are hopeful that this will be enough to get rid of this PUP. Just to be safe, use a malware scanner to learn if you need to remove the leftovers of this PUP or other unreliable programs.