Do you know what Ravnateljstvo Policije Virus is?
Do not panic if your operating system has been infected with Ravnateljstvo Policije Virus because this is exactly what schemers need you to do. If you fall for the scam developed by cyber criminals, you are likely to waste your money for no good reason. The ransomware shows up as a screen-locking notification; however, the real infection which requires immediate removal is the Urausy Trojan. If you delete this threat from the PC, you will delete Ravnateljstvo Policije Virus as well. Here are a few excerpts:
UPOZORENJE!
Vaš osoban kompjuter je blokiran zbog sigurnosnih mjera iz sljedećih razloga. [...]
Iznos vaše kazna je HRR 500 Kuna.
Kaznu možete platiti novčanim vaučerima PaySafeCard.
Even though the screen-locking notification suggests that the alert has been provided to you by the Copyright Alliance, Internet Police, Europol, Interpol and Croatian law enforcers, in reality it is cyber crooks who have taken over the system. Note that if you live in Croatia you also need to beware of the infamous Ured Za Posebne Poslove Sigurnosti Virus which is controlled by the Urausy Trojan as well. Those living outside of the country may be targeted by Arma dei Carabinieri Virus, Nemzeti Nyomozó Iroda Virus, Keskusrikospoliisi Virus and similar infections.
Computer users need to be extra careful about the accusations presented by the ransomware. The law articles and represented credentials together create an illusion that your actions performed from the PC are somehow illegal. If you do not agree with the listed cyber crimes, why would you proceed with the fine payment? Also known as the Ukash Virus/Paysafecard Virus, the malignant ransomware in reality has no concerns about your virtual security or criminal activity.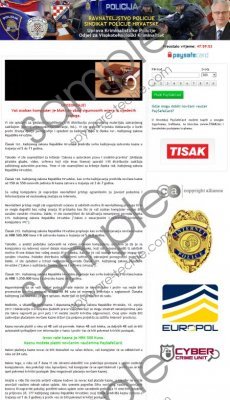 Ravnateljstvo Policije Virus screenshot
Scroll down for full removal instructions
If you wish to remove Ravnateljstvo Policije Virus from the PC for good, we recommend using a reliable anti-spyware application to have it deleted automatically. SpyHunter is a reliable, authentic and effective tool which can delete the malicious ransomware and ensure well-rounded Windows protection. Needless to say, this is the best removal option you have, and we strongly recommend that you follow the instructions below to install this tool onto the paralyzed computer.
How to remove ransomware from Windows?
Remove from Windows 8:
In the Metro UI start screen move the cursor to the bottom-right.
Click Settings and select Change PC Settings.
Now click General, navigate to Advanced Startup and click Start Now.
Select Troubleshoot and click Advanced Options.
Click Startup Settings, select Restart and then F5.
Go to http://www.spyware-techie.com/download-sph and download SpyHunter.
Install the application and delete malware.
Remove from Windows Vista/Windows 7:
Restart the PC, wait for BIOS to load and start tapping the F8 key.
Using arrow keys select Safe Mode with Networking and tap Enter.
Download and install the automatic spyware detection/removal tool SpyHunter.
Remove from Windows XP:
Restart the PC, wait for BIOS to load and start tapping the F8 key.
Using arrow keys select Safe Mode with Networking and tap Enter.
Click Yes for the Desktop alert.
Download SpyHunter.
Click Start (left of the Task Bar).
Launch RUN, enter msconfig and click OK.
Click the Startup tab.
Select Disable All and click OK.
Restart the PC and install the automatic spyware remover.
In non-techie terms:
If you do not remove Ravnateljstvo Policije Virus from the operating Windows system, cyber criminals will not allow you to run the computer normally. The infection can hijack your PC, infiltrate more malware and convey a number of dangerous tasks. It would be best to delete the threat right away, and the instructions above will help you achieve this.
Aliases: Ravnateljstvo Policije Virus.