Do you know what Raven Point Attachment is?
Raven Point Attachment is a browser extension that should be distributed to Google Chrome users. At one point it was suggested on Chrome Web Store page, but at the moment of writing it is no longer available there. It is entirely possible the application could have been removed because of its doubtful reliability. In fact, it would not surprise us at all since our researchers classified this plugin as a browser hijacker. After testing it in the internal lab, we discovered that the application may hijack all user's searches by redirecting him to untrustworthy websites. As a result, the user might be unable to use any search tools of his choice. To make matters worse, it seems Raven Point Attachment might also inject the results with suspicious third-party ads. Needless to say, we would advise you not to tolerate such behavior and delete this threat. Users who have no idea how to do this could use the removal guide placed below. For more details about the extension, you should read the following text.
Given the browser hijacker is not distributed through the Chrome Web Store page anymore, we believe it might be spread somewhere else, for example, unreliable file-sharing web pages, where the extension could be bundled with other suspicious software. If the browser hijacker appears as a suggestion on another application's setup file, it might be mentioned only in the advanced installation settings. It means users could install it unknowingly if they would choose the automatic installation instead of custom. For users who received Raven Point Attachment this way, we would advise being more attentive during the installation process; you should always deselect unnecessary software suggestions. Besides, it would be safer to acquire setup files from legitimate sources instead of downloading bundled ones from untrustworthy file-sharing sites. Having a reputable antimalware tool to guard the computer would also be a good idea since it could help you separate possibly dangerous applications and keep your system safe.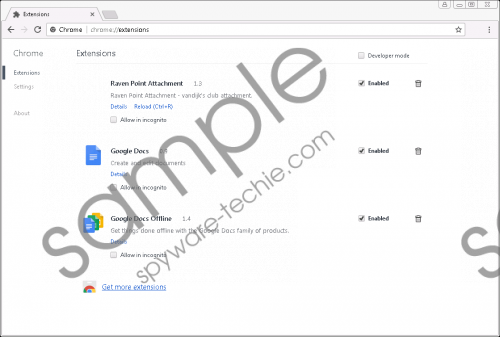 Raven Point Attachment screenshot
Scroll down for full removal instructions
Once the browser hijacker is placed on Google Chrome, you might begin noticing that the results you get are being displayed by yahoo.com, no matter which search engine you use. Our researchers believe Raven Point Attachment might be to blame for this. It looks like it can hijack all the user's searches no matter which search engine is used as all of the search queries end up being redirected through clever-find.com, blpsearch.com, and then to a modified version of yahoo.com. Therefore, when you receive the results, they might be already injected with suspicious advertisements from the threat's third-party partners. The advertisements from Raven Point Attachment could come from suspicious third-party web pages, so interacting with them may lead you to such websites. Naturally, if the site contains malicious data it would be dangerous to enter it, although besides infecting the computer there are other risks to consider too, for example, the ads could lead you to scam web pages, sites trying to steal your sensitive data, etc.
Since the extension has no useful features and it may prevent you from using the search engine you prefer, we advise you not to waste any time with it, especially when it's provided search results could contain unreliable advertising content. If you like Yahoo, you should simply use its original version. This way you would avoid suspicious advertisements that Raven Point Attachment might inject into the search results. There are two ways you could get rid of the browser hijacker. Firstly, it can be erased manually while following the removal guide placed below. The other option is to download a reputable antimalware tool and employ its scanning feature to both detect and eliminate the hijacker or other possible threats automatically.
Erase Raven Point Attachment from Google Chrome
Launch File Explorer (Windows Key+E).
Locate these two directories separately:
%USERPROFILE%\Local Settings\Application Data\Google\Chrome\User Data\Default\Extensions
%LOCALAPPDATA%\Google\Chrome\User Data\Default\Extensions
Search for folders named as amodnjbmoaageifpnenfjcbfhaailpic, right-click them and press Delete.
Then go to the following paths:
%LOCALAPPDATA%\Google\Chrome\User Data\Default
%USERPROFILE%\Local Settings\Application Data\Google\Chrome\User Data\Default
Find files titled as Preferences, Secure Preferences, and Web Data.
Right-click them one by one and press Delete.
Lose the Explorer.
Empty Recycle bin.
In non-techie terms:
Raven Point Attachment is a questionable browser extension targeted at Google Chrome's users. If you came across it, we recommend eliminating it as soon as possible. Considering the application's suspicious behavior like not allowing the user to browse with any search engine he chooses or displaying unreliable third-party ads among the results, keeping it on the system might be a bad idea. As you see it could not just disturb the user's browsing, but also show him ads that could redirect to possibly malicious web pages. Not to mention the application does not have any useful qualities. Thus, we see no reason why would anyone wish to keep it installed. Users who choose to erase the threat could do so either by following steps provided by the removal guide given above or with a trustworthy antimalware tool.