Do you know what RapidCoupon is?
If you read the information provided on the official website rapidcoupon4u.info, you will soon find out that RapidCoupon is just a tool mainly designed for those that shop online because it will provide shoppers with coupons, deals, and discounts. All of them will appear straight on such websites as eBay.com, amazon.com, kmart.com, and bestbuy.com. Thus, there is a possibility that you will not be able to shop freely. In addition, RapidCoupon might display commercial ads on other websites as well, which means that there is a huge possibility that your browsing session will be disrupted. We believe that there is no point in keeping programs that cause inconvenience, which is why we recommend that you get rid of RapidCoupon as soon as possible. The manual removal instructions are placed for you below the article.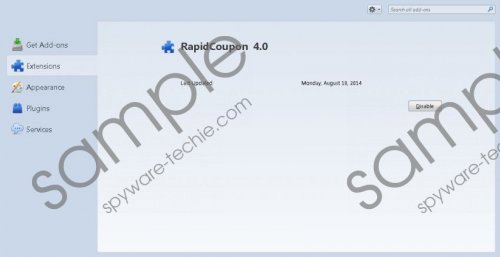 RapidCoupon screenshot
Scroll down for full removal instructions
Ads generated by RapidCoupon are not only extremely annoying, but they might also lead you to the websites that contain malicious software. This advertising-supported application only uses the service of third-party advertisers; thus, it is not responsible for your safety and it definitely does not monitor the websites where you might be taken. On top of that, RapidCoupon might perform other undesirable activities as well. The specialists of spyware-techie.com have implemented a research and found out that this advertising-supported application might also collect the following types of information associated with your browsing habits: the websites that you visit, the content that you access, the links you follow, and other technical details. All the gathered data will be shared with third-party advertisers in order to provide you relevant ads.
It has been observed that RapidCoupon usually enters the system without user's permission. As you can see, it is a very sneaky program. The researchers of spyware-techie.com has done a research and found out that RapidCoupon usually travels bundled with freeware and other applications. Do you want to avoid various undesirable programs in the future? If so, it is advisable to install a reliable antimalware tool on the system and keep it enabled. Besides, you should perform a full system scan regularly as well.
Have you already detected RapidCoupon on your system? If so, we advise that you remove it as soon as possible because it might not only act behind your back, but also might attract other infections to your computer. One of the solutions is to scan the system with a licensed antimalware tool. If it happens that you decide to get rid of it yourself, you should know that you can use the instructions provided for you below the article.
How to remove RapidCoupon
Windows 8
Tap the Windows key + R simultaneously.
Type in control panel and click OK.
Select Uninstall a program.
Right-click on RapidCoupon.
Click the Uninstall button.
Windows 7 and Vista
Click on the Start menu icon.
Select Control Panel.
Click Uninstall a program.
Select the suspicious application.
Click the Uninstall button.
Windows XP
Open the Start menu.
Select Control Panel.
Click Add or Remove Programs.
Select the software that you wish to remove.
Click the Remove button.
In non-techie terms:
The security experts of spyware-techie.com warn you that your computer might contain other infections. Thus, it is highly recommended that you scan your PC with a reliable antimalware scanner, for instance, SpyHunter. The instructions provided below will help you to download it.