Do you know what Rapid-Searcher.com Search is?
Rapid-Searcher.com Search is a search engine that is set as your default search provider when you get infected with a browser hijacker. There are several websites that get used by the same infection, so while you might be infected with Rapid-Searcher.com Search, other users complain about quick-seeker.com, speed-find.com or best-found.com. The bottom line is that all these websites are part of a malicious scheme and you should not trust Rapid-Searcher.com Search. Remove all the programs that could have come with this browser hijacker and scan your computer with a reliable antimalware tool.
Based on security research, Rapid-Searcher.com Search is developed by Ad Business Crown Solutions, although the question is whether this company is real. The main feature of all the browser hijackers from Rapid-Searcher.com Search group is that these infections target Spanish and Italian computer users. It is easy to see from Spanish or Italian installer that installs random third party applications on your computer along with this browser hijacker.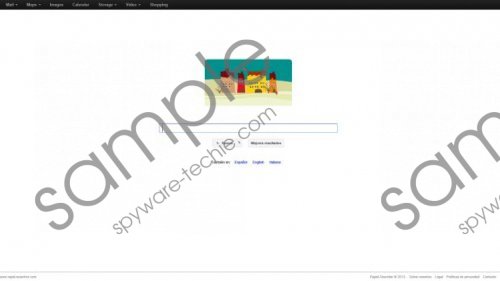 Rapid-Searcher.com Search screenshot
Scroll down for full removal instructions
That is another trap within this scam – Rapid-Searcher.com Search gets installed on your computer silently. You may initiate the installation yourself, but you are not informed about additional installation that is about to take place, so you can never know when or how you get infected with Rapid-Searcher.com Search. This shows that you need to avoid downloading legal programs from third party websites. If you need a program installed on your PC, then download it from its official page. Stay away from such websites as softonfire.com, because it is known to distribute Rapid-Searcher.com Search along with its downloader.
In fact, if you download something via softonfire.com, you will notice that the installer does not allow you to choose any options. It jumps from License straight to installation, and the next thing you know, apart from the newly installed software, your default home page on Mozilla Firefox, Google Chrome or Internet Explorer get changed to Rapid-Searcher.com as well. This browser hijacker also modifies your default search engine and employs various adware helpers to prevent you from removing it.
Due to the fact that Rapid-Searcher.com Search is compatible with adware, you might experience an onslaught of commercial advertisements. Disregarding the ad content, you should never click them, because Rapid-Searcher.com Search obviously is not responsible for generating them, and all the content belongs to third parties, some of which might also prove to be malicious.
It is necessary to remove Rapid-Searcher.com Search from your computer to avoid annoying redirections, data collection and even potential malware infection. Make use of SpyHunter free scanner to determine which programs have been installed along with Rapid-Searcher.com Search and then remove them all at once. Invest in powerful antimalware tool if need be.
Manual Rapid-Searcher.com Search Removal
Windows 8
Slide mouse cursor across your desktop to the bottom right corner.
Click Settings on Charm bar and go to Control Panel.
Open Uninstall a program and remove HomeHelperSfr with other unwanted programs.
Windows Vista & Windows 7
Open Start menu and select Control Panel.
Click Uninstall a program and remove HomeHelperSfr with other undesirable programs.
Windows XP
Open Start menu and click Control Panel.
Select Add or remove programs and uninstall HomeHelperSfr with other unwanted applications.
Restore browser settings
Internet Explorer
Press Alt+T and click Internet options.
Press Use Default under General tab and press OK.
Press Alt+X and click Manage add-ons.
Select Search providers on the left pane.
Set a new default search engine and remove HomeHelperSr.
Mozilla Firefox
Press Firefox button and go to Options.
Click Restore to Default button under General tab and click OK.
Click Search engine icon on the left of Firefox search box (top right corner).
Select Manage search engines on drop-down menu.
Remove HomeHelperSfr from the list and press OK.
Google Chrome
Press Alt+F and click Settings.
Under On Startup, select Open a specific page or set of pages.
Click Set pages and change your home page address. Click OK.
If you have any additional questions about Rapid-Searcher.com Search or how to remove, please leave me a comment.
In non-techie terms:
Rapid-Searcher.com Search is a suspicious search engine that is used by a browser hijacker infection. It may expose you to a variety of dangerous threats, so it is necessary to remove Rapid-Searcher.com Search immediately.
Aliases: Rapid Search.