Do you know what Rapid Reader is?
If you have found Rapid Reader active on your PC, you should be aware that it is nothing more than your average adware program. During their research, our malware experts have found out that this invasive ad-supported program is closely related to other adware applications such as WordShark, Quiknowledge, WordProser, and quite a few others. Therefore, it is quite natural that we highly advise the removal of Rapid Reader. Even though at times this intrusive program could be advertised as a tool that should be used to boost your online experience, you must know that this suspicious program will not do anything like that. In fact, it will only do the opposite. Read the rest of this article to learn about the functionality of this adware and why we highly recommend its complete removal. Below, a detailed removal guide of Rapid Reader is provided that will help you remove it in no time at all.
The functionality of Rapid Reader is rather straightforward. Once this adware program enters your web browse, it will be filled with suspicious third-party web content, which, it goes without saying, will cause you quite a bit of annoyance. Generally, all such content is presented to a user as various third-party banner ads, annoying coupons, and invasive pop-ups. This is all provided because this ad-supported application initiates numerous connections to various adware servers. Such servers are the primary source of all of that unwanted web content. One of the most annoying things about Rapid Reader is that all the ads and pop-ups are presented in an utterly random way. Another annoying feature is that at times your web browser could get filled up with those annoying ads and pop-ups so much that you might not be able to surf the web the way you are used to. In such a case, you could be forced to fight through them just to be able to navigate through the web. In order to stop this invasive activity, make sure to delete Rapid Reader from your PC as soon as possible.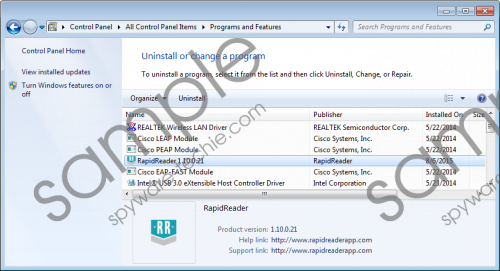 Rapid Reader screenshot
Scroll down for full removal instructions
While annoyance and frustration are the primary features of Rapid Reader, you must know that at times this adware program could also act in a quite malicious way. During our research, we have found that some ads provided by this invasive application could be implemented with redirect links. This is a very dangerous situation because just by clicking on a seemingly simple ad you could end up on suspicious or even potentially malicious websites. For example, you could end up on a site with an active arbitrary code execution exploit, meaning that just entering such a website is more than enough to get your operating system infected with some unknown malware. This is obviously a situation that holds enormous risk and that no user should face. Thus, the removal of Rapid Reader is a must.
Make sure to conduct the removal of Rapid Reader with your utmost attention, because it has been found out that even a single mistake could mean that the adware program was not removed entirely. This is a rather dangerous situation because even a few leftover files or registry entries could be used to restore this intrusive adware program. Make sure that every single bit of Rapid Reader has been removed: Make sure to scan your PC with a reliable antimalware tool once the manual removal has been performed.
How to remove Rapid Reader from your operating system
Removal instructions for users of Windows Vista and Windows 7
Click the Windows button and then select Control Panel.
Click the Uninstall a program option.
Right-click Rapid Reader and select the Uninstall option.
Removal instructions for users of Windows XP
Tap the Windows key located on your keyboard.
Select Control Panel and click Add or Remove Programs.
Uninstall the unwanted application.
Removal instructions for users of Windows 8
Move the mouse pointer to the lower-left corner of the screen.
Right-click and select Control Panel.
Click Uninstall a program.
Select Rapid Reader and then click the Uninstall button.
In non-techie terms:
In some cases manual removal might be too complicated for non-advanced users. If this is the case, do not worry and follow the instructions that we provide below. This alternative removal guide will help you get rid of this adware in an automatic way.