Do you know what Rapid 2.0 Ransomware is?
The prominence of ransomware applications seems to be at the all-time high nowadays. Thus, being aware of their existence and keeping your PC safe and secure at all times is critical. Malware experts at Spyware-Techie.com have discovered a program of this classification, which goes by the name of Rapid 2.0 Ransomware. If you ever come across this malware while browsing the web, be sure to do everything that you can to avoid it. Doing so is paramount because this intrusive application is designed to lock massive amounts of data in no time at all. As you can imagine, having a program that can act in such a way, will have devastating outcomes, to put it mildly. Learn more about the intricate inner workings of this malware by reading this article in its entirety. Also, we include a few virtual security tips along with a detailed removal guide that will help you delete Rapid 2.0 Ransomware in no time at all.
Rapid 2.0 Ransomware does not differ all that much from other devious applications of this category. In fact, researchers at Spyware-Techie.com have discovered that the malware in question is likely an updated version of a malicious program known as Rapid Ransomware. Therefore, it is quite natural that there are not a lot of differences in their inner workings. The main one is that the newly crafted version can identify the computer's geographical location. That is a somewhat dubious feature because if this malware discovers that the PC is located in Russia, it does not start the encryption procedure. Otherwise, right upon intrusion it scans your hard drive for its contents and starts locking your files. During the encryption, your data will be encrypted with a powerful algorithm that will eliminate any chances of manual decryption. Unfortunately, the whole procedure is quick and silent, which means that not a lot of users can identify and delete this ransomware before it starts doing its dirty work. As soon as your data is locked, you will notice a ransom note that will ask for a ransom in return for decryption services. Under no circumstances abide by such demands since cyber crooks responsible for this malware are not legally bound to provide decryption services even if you pay up. To delete Rapid 2.0 Ransomware once and for all, make use of the instructions that you can find below.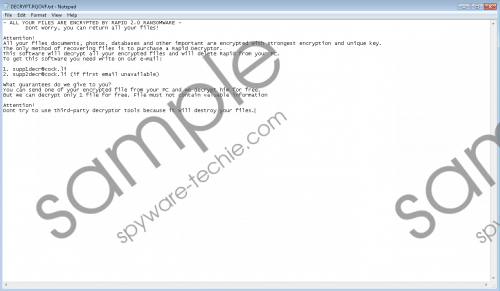 Rapid 2.0 Ransomware screenshot
Scroll down for full removal instructions
Most internet users infect their PC with Rapid 2.0 Ransomware because they lack knowledge regarding virtual security. Our researchers have compiled a few precautionary steps that will help you have a clean and safe operating system. First, it is critical to practice safe browsing habits at all times. Be sure to refrain from all unauthorized download websites because they can host software bundles, which are infamous for containing all sorts of questionable and even dangerous applications. By downloading all of your programs from their official developers' websites only, you will significantly reduce the risk of infecting your operating system. Likewise, we urge you to bypass all emails and email attachments that come your way from unknown sources. Doing so is essential because malware developers often launch spam email campaigns for distribution purposes. Furthermore, you must know that cyber crooks also use misleading marketing tactics to trick users into downloading and installing their intrusive programs. Thus, we advise you to educate yourself about any application that you want to have up and running on your PC. Finally, every security-conscious user must have a professional antimalware tool since it can identify and remove any virtual security threat automatically. Take these precautionary measures seriously, and your operating system will be virtually unbreakable.
Remove Rapid 2.0 Ransomware as soon as it is found up and running on your PC. Under no circumstances delay the removal procedure since keeping this application active on your personal computer could lead to further virtual security problems. It is also essential to note that we advise you to double-check your operating system for anything associated with this malware. Doing so is critical because traces of this application could be used to restore Rapid 2.0 Ransomware silently. In other situations, those same leftovers could be enough for this malicious program to continue working. By thoroughly rechecking your PC, you will be sure that every single bit associated with Rapid 2.0 Ransomware has been successfully removed from your operating system once and for all.
How to remove Rapid 2.0 Ransomware
Right-click your Task Bar.
Select Start Task Manager and click the Processes tab.
Select the malicious process and click End Process. Remember that the name of this process is randomized.
Open the File Explorer.
Navigate to C:\Users\<your username>\Downloads.
Right-click the malicious .exe file and select Delete. Note that the name of this file is random.
Close the File Explorer.
Right-click the Recycle Bin and select the Empty Recycle Bin option.
In non-techie terms:
If you think that manual removal of Rapid 2.0 Ransomware is bit too complicated, you should not worry. Our researchers are well aware of that; thus, below we present an alternative removal guide. Follow these instructions with care and you will be able to delete this ransomware automatically without encountering any major problems.