Do you know what Ransommine Ransomware is?
If you ever encounter an application that goes by the name of Ransommine Ransomware, make sure to refrain from it at all times. If unfortunately, your operating system is already infected with this devious program, make sure to execute its complete removal right away. Such procedure is critical because ransomware programs are designed to encrypt enormous amounts of your data without any notification or authorization. It should be self-evident that such application could cause disastrous outcomes, to put it lightly. For more information regarding the inner workings of this malicious program, make sure to read the rest of this detailed report. Also, we include virtual security recommendations, which will help you maintain a clean and secure operating system at all times. To delete Ransommine Ransomware without encountering any major problems, make sure to use the comprehensive instructions below.
It is important to note that Ransommine Ransomware seems to be targeted to Korean users primarily. Even though that is the case now, it is essential to understand that this devious program could spread elsewhere; thus, being aware of this malicious application's existence is critical. Malware experts at Spyware-Techie.com have discovered that Ransommine Ransomware functions in a relatively simple manner. In fact, it does not differ all that much in its functionality from other ransomware programs that are active nowadays. As soon as it gains full access to your operating system, it immediately scans your hard drive for its contents. The next step in the chain of action is the encryption procedure. It is imperative to note that this malicious process is completely silent; thus, it is not surprising that this malware blindsides the majority of users. During the encryption, this ransomware locks your data using a robust cipher. Such powerful algorithm is used to eliminate manual decryption as a viable option. Every affected file will be tagged with a .RansomMine extension. Once you no longer have access to your data, you will notice a ransom note, which will inform you about all that has happened. It will also urge you to pay a ransom in return for decryption services. Do not abide by these demands since malware developers are not legally bound to unlock your data even if you pay up. Make sure to perform a complete removal of Ransommine Ransomware as soon as it is found up and running on your operating system. To do that quickly and easily, make sure to follow the instructions below.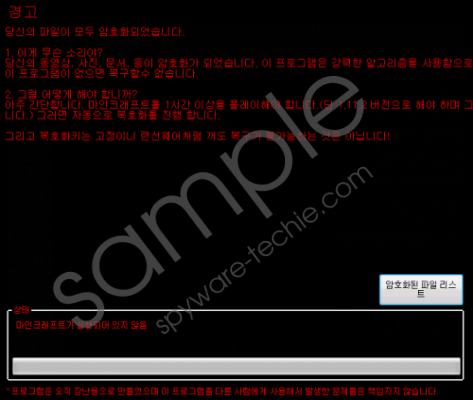 Ransommine Ransomware screenshot
Scroll down for full removal instructions
The recent outburst of ransomware programs does not seem to be stopping anytime soon; thus, keeping your computer clean and secure at all times should be your utmost priority. It is critical to be cautious while browsing the web. Malware researchers at Spyware-Techie.com highly recommend avoiding all questionable download sites because they are known to host bundled installers. Usually, such setup files are filled with questionable and otherwise suspicious applications. You can easily obtain a clean installer by acquiring all of your programs for their official vendors' websites only. Likewise, you must refrain from all email attachments that come your way from dubious third-parties because malware developers often use spam email campaigns to spread their suspicious applications. Furthermore, be sure to stay away from all questionable web pages because they might host ads and pop-ups embedded with redirect links, which could lead you to suspicious and even malicious sites. Finally and most importantly, make sure to install a licensed antimalware tool because it can detect and delete any virtual security threat before it can enter your operating system. These seemingly simple precautionary steps will help you maintain a clean and secure system at all times.
Make sure to delete Ransommine Ransomware at the very same instance that it is found active on your personal computer. It is critical to note that you must delete everything associated with this malware to stop its malicious functionality once and for all. Also, you must know that just a few traces of this devious program could be enough for it to continue doing its dirty work. Furthermore, leftovers might trigger a restoration of Ransommine Ransomware without your knowledge. To avoid finding yourself in such a situation, make sure to recheck your entire operating system for dubious traces as soon as you are done with the instructions below.
How to remove Ransommine Ransomware from your computer
Open the File Explorer.
Navigate to C:\Users\(your username)\Downloads.
Select a malicious .exe file and then tap the Delete key on your keyboard. Remember that the name of this file is randomized.
Close the File Explorer.
Right-click your Recycle Bin and select Empty Recycle Bin.
In non-techie terms:
The complete removal of Ransommine Ransomware is crucial if you are a security-conscious user. If you happen to find manual removal a bit too complicated, do not worry. Below you will find an alternative removal guide. Follow these instructions and you will be able to get rid of this ransomware automatically.