Do you know what Ransed Ransomware is?
If a pop-up window comes up on your screen claiming that "our servers are offline," there is a good chance that Ransed Ransomware has sneaked onto your system. Before you start panicking, let us calm your nerves by telling you that this ransomware has most probably not managed to encrypt your precious personal files as it fails to connect to its Command and Control (C&C) server (ransed.ddns.net). This is definitely great news since it means that you do not have to make the difficult decision of whether paying the ransom fee or not. Even if these cyber criminals ask for a rather low amount for the decryption key in this case, you should not pay since there is never any guarantee to get the key. But, of course, you will not even get to the point to see the ransom note as this ransomware stops operating the moment it cannot connect to its server. Well, according to our researchers, there is always possibility that the server goes online and this ransomware activates. This is why it is essential that you remove Ransed Ransomware right away.
We have no concrete information yet about how well-spread this malware infection is and what kind of distribution methods are used. However, we can still share with you the most general ways cyber criminals tend to distribute ransomware infections. Probably the most often used method is spam e-mails. Crooks can infect lots of unsuspecting computer users this way and more or less at the same time, too. Imagine if they can send out tens of thousands of spam e-mails with this ransomware as an attached file, how many of these users can be potential victims? Such a spam is usually a mail that appears to be quite important. Its sender could seem totally legitimate to you so you would not doubt for a second that this mail is for real. Then, the subject may refer to a matter that you would most likely consider urgent and important enough to want to open it right away. However, once you open it, you will also want to view the attachment. This file though is the malicious executable disguised as an image or document. Normally, you could not delete Ransed Ransomware from your system without losing your files to encryption after you run this attachment.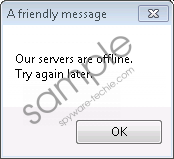 Ransed Ransomware screenshot
Scroll down for full removal instructions
Apart from being more cautious with your mails and opening attachments, it is also very important that you keep your browsers and Java and Flash drivers always up-to-date. Cyber criminals can set up malicious webpages with so-called Exploit Kits that can drop such an infection in no time after loading the page. You do not even need to engage with any content on such a page and you could infect your machine right away behind your back. It is also important that you do not try to download free software or updates from questionable sources like suspicious torrent and freeware pages because that is another way for you to infect your system with ransomware or bundled malware threats. We hope that now you can protect your PC more efficiently knowing these potential methods. But before you jump to delete Ransed Ransomware, let us tell you how it is supposed to work at all.
Our researchers dissected this ransomware infection in our internal lab and found that it was coded in .NET, which made it quite easy to examine. This threat is supposed to use the AES-128 encryption algorithm and target the following file extensions: .txt, .doc, .docx, .xls, .xlsx, .ppt, .pptx, .odt, .jpg, .png, .csv, .sql, .mdb, .sln, .php, .asp, .aspx, .html, .xml, .psd, .mp4, .mp3, .ogg, .avi, .wmv, .wav, .wave, .gif, .mus, .db, .cs, .c, .h, .cpp, .jar, .bmp, .jpeg, .rar, .zip, .7z, .7zip, .css. As you can see, your documents, images, archives, and videos would fall prey to this attack if it were to function. However, it seems that there is an error in communication with the C&C server and thus the encryption cannot start up. This is certainly the best news about this malware infection and makes it all the easier to make up your mind and remove Ransed Ransomware.
We have also found that this threat generates its encryption key locally in the Windows Registry ("HKCU\RANSED"). Since it only uses the AES algorithm to encrypt your files, the key can also be retrieved from this registry key and used to decrypt files. However, this ransomware would probably delete this key after a successful communication with the C&C server and encrypting your files. If this ransomware could finish its dirty job, it would ask for 25 USD as ransom fee to be paid in BTC for the decryption key. Fortunately, you do not need to worry about that. You can simply remove Ransed Ransomware from your system.
Obviously, such an attack should be a big sign for you that it is time to save backups regularly because when your files get encrypted and no free tool emerges on the web to recover your files with, there is no other way for you to have your files back. You can use cloud storage or a removable drive, it is up to you. If you want to eliminate this threat manually, first you need to kill the malicious process via Task Manager. Second, you need to delete the related file and the registry entry it created. Please use our guide below if you are ready to act. Hopefully, you understand now why it is so important that you protect your computer from similar attacks. If you cannot trust your IT or web surfing skills, maybe it is time for you to consider installing a reliable anti-malware program, such as SpyHunter.
How to remove Ransed Ransomware from Windows
Open the Task Manager by pressing Ctrl+Shift+Esc simultaneously.
Locate the malicious process and press End task.
Close the Task Manager.
Press Win+E.
Find the downloaded malicious executable file or any suspicious file you have saved recently.
Delete the malicious file.
Empty your Recycle Bin.
Press Win+R and type regedit. Click OK.
Locate and delete "HKCU\RANSED" registry key. (If encryption has taken place, copy the key to be able to decrypt your files.)
Exit the editor.
Restart your computer.
In non-techie terms:
Ransed Ransomware is yet another malware infection that could cause huge devastation on your system by encrypting your files beyond repair, but somehow it fails to do so. As a matter of fact, our researchers say that this ransomware program cannot connect to its Command and Control server, which means that it does actually encrypt your files. Since this vicious program is not really well coded, we do not believe that a new variant will ever come out. If the connection with the server does not go online, your files should be safe from this threat. In any case, it is important that you remove Ransed Ransomware immediately from your system. If you want to protect your PC properly, we suggest that you start employing a professional anti-malware program.