Do you know what Rango XP Antispyware 2014 is?
Rango XP Antispyware 2014 is a deceptive program which looks like a legitimate security program for Windows XP. The Rango XP Antispyware 2014 program mimics system scans and shows fake search results in order to prompt you to purchase one of the fake licenses provided by the attackers. The creators of the deceptive program seem to have put a lot of efforts to tailor different parts of the program in order to make it as convincing as possible. However, the truth is that this program is not powered by any malware detection technology; as a result, it cannot safeguard the system against malware and spyware.
The Rango XP Antispyware 2014 program falls into the category of malware called Braviax, or FakeRean. The Braviax malware family includes programs that alter their names depending on the victimized operating system. For example, in case of a different operating system, say, Windows 7, you would deal with Rango Win 7 Antispyware 2014. Earlier this year we analyzed some different programs, including Win 8 Antivirus, Vista Protection 2014 and their variations. New deceptive programs are released several times a year, and you should bear in mind that there are different malware families. Hence, you should be alert to the possibility of encountering some other rogue anti-virus programs. In order to prevent serious security issues, the system should be properly protected.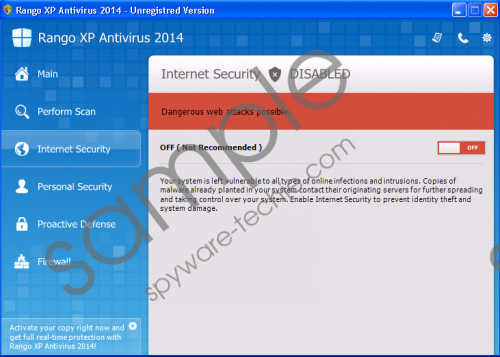 Rango XP Antispyware 2014 screenshot
Scroll down for full removal instructions
After the attack of Rango XP Antispyware 2014, you may think that your personal information is in danger because the computer becomes inoperable. All executable files, such as Internet browsers and security programs, are disabled so that you cannot get rid of the program. You may think that the threats detected by Rango XP Antispyware 2014 are the culprit; however, the truth is quite the opposite. All that you have to do is remove Rango XP Antispyware 2014 from the computer in order to restore the former settings of the system, and the sooner you do it, the better.
The interface of Rango XP Antispyware 2014 looks intricate, and the whole program is complex, too. If you do not have sufficient skills in malware removal, you should rely on a reputable security program. Our team recommends using SpyHunter because this anti-malware program can easily remove Braviax programs and safeguard the operating system. Below you will find our step-by-step instructions that will help you install the program so that it does not get disabled by the malicious infection.
How to remove Rango XP Antispyware 2014
Reboot the computer.
Once the BIOS splash screen loads, start tapping F8.
Select Safe Mode with Networking.
Press Enter.
Click Yes in the dialog box.
Open the Start menu and launch Run.
Type in msconfig and press OK.
Open the Startup tab and click Disable All. Click Apply.
Download our recommended program available at http://www.spyware-techie.com/download-sph and restart the computer.
Install the program and remove Rango XP Antispyware 2014.
In non-techie terms:
If you really want to get rid of Rango XP Antispyware 2014, you should not wait any longer but take action right now. Rango XP Antispyware 2014 corrupts the system and seeks to obtain your money. The program cannot shield the operating system from malware and spyware, so do not hesitate any longer but implement the recommended security tool.