Do you know what Rainy Day Travel is?
Rainy Day Travel is one of the newest advertising-supported applications. We cannot say that it is extremely popular; however, we still know that there are hundreds of users who have already encountered Rainy Day Travel. As this software is targeted at users living in the USA, it is not surprising that this place is put under the category of top countries infected by Rainy Day Travel. Actually, it does not really matter where you live. The most important thing is that you delete this adware program the moment you detect it on your computer. We promise to provide you more information about Rainy Day Travel and let you decide yourself whether or not to keep it. Users who decide to get rid of an ad-supported program will also find the manual removal instructions below this article. Use them only after you read this entire report.
Even though this ad-supported program promises to find and provide users with exclusive offers and discounts, it seems that it is not going to act like that at all, so we are sure that computer users will not find Rainy Day Travel useful at all. According to our specialists, it is likely that this ad-supported program has been released to display ads and cause redirections only, which means that all these claims to find exclusive offers and great discounts for users are lies. In our opinion, it is not worth keeping a useless program that only uses the system's resources. You should especially erase it if this piece of software has entered the computer without your consent and now performs all kinds of activities behind your back every day.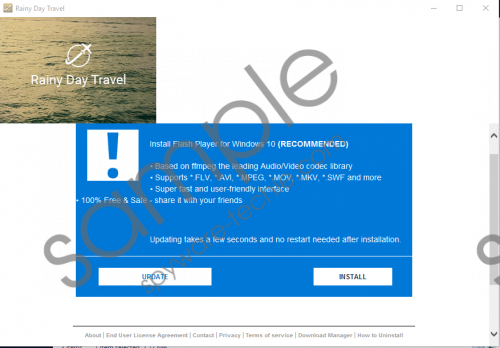 Rainy Day Travel screenshot
Scroll down for full removal instructions
Of course, Rainy Day Travel will display advertisements, third-party offers, surveys, and similar content because it is known to be an ad-supported program. In addition, it will cause redirections to other web pages, e.g. updateauto.freecodecheck.com/?pcl=5qe5FetFrItyco5HNTadzxMu9Nwdv__MlK_dmzyotoo.&subid=102860_04d70cfbf67d27edf499d7a401b32449&v_id=l4DT0hUixwyHHqyRWtcNUtr-D1HfPBkrqgqM4A6jCjA. You should be very careful because ads might contain unreliable links leading straight to corrupted web pages. Websites opened for you on the main window of this software might not be the most reliable as well. You should especially be careful with ads offering to install some kind of application or updates because you will, most probably, allow malware to sneak onto your computer by clicking on such ads. In most cases, adware, potentially unwanted programs, and browser hijackers are spread this way.
It is known that adware programs not only show advertisements but might also collect information about users. According to our team of specialists, they are primarily interested in two types of information: non-personally identifiable and personal. Of course, adware will not steal your banking credentials like Trojans; however, these programs might still record your name, surname, email address, and other details that you enter yourself. Luckily, adware is much more interested in non-personally identifiable information. In other words, it seeks to find out what websites users visit, links they click on, ads which are the most interesting for them, and other Internet-browsing related information. Adware seeks to find out some technical information too. You can stop adware only if you remove it from your computer. Continue reading if you wish to find out how to eliminate it.
Researchers say that adware programs are so prevalent because they are available for download on several different places, for example, Rainy Day Travel has an official website but we are sure that it is possible to get it from some kind of third-party web page too. In addition, it might also travel in software bundles. If you have already encountered adware, we are sure that you do not want to allow similar programs to sneak onto your computer again. Luckily, it is not so difficult to ensure the system's safety. You just need to install a security tool on the system and keep it always there.
It is a must to delete Rainy Day Travel as soon as possible because this program is not trustworthy, and it is known that it might quickly cause harm to the system. Instructions that you will find below will help you to erase this program; however, if you wish to delete this software quicker, scan your system with SpyHunter. This antimalware scanner will also detect and remove other infections from your PC.
Delete Rainy Day Travel
Windows XP
Click on the Start button.
Select Control Panel.
Click Add or Remove Programs.
Select the unwanted program and click Remove.
Windows 7 and Vista
Open the Start menu and go to Control Panel.
Click Uninstall a program.
Right-click on Rainy Day Travel.
Uninstall it.
Windows 8/8.1/10
Launch RUN.
Enter Control Panel in the box. Tap Enter.
Click Uninstall a program.
Select the undesirable software.
Click Uninstall.
In non-techie terms:
If you remove Rainy Day Travel manually, you will have to take care of other undesirable programs that have sneaked onto your computer together with this adware separately. Of course, you will have to detect them first. To find out whether there are untrustworthy programs installed, scan your computer with a diagnostic scanner. Theoretically, it is possible to find all the infections manually too; however, this is a very difficult task to do.