Do you know what Radxlove7@india.com Ransomware is?
We have just covered a similar ransomware infection yesterday, and now we have yet another member of the same family bullying computer users worldwide. Radxlove7@india.com Ransomware is a dangerous infection that will catch you unawares. It will try everything in its power to rip you off, but you should know better than that. Remove Radxlove7@india.com Ransomware from your system immediately. The manual removal applicable to this infection is practically the same as the guide we have posted for Grand_car@aol.com Ransomware, but we will definitely provide the step-by-step instructions for this infection, too. You just have to follow them closely.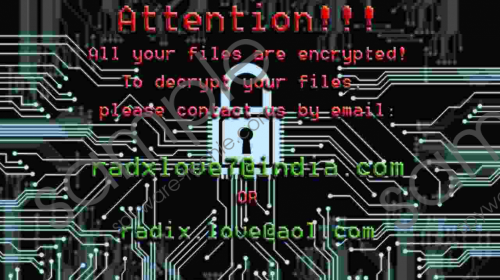 Radxlove7@india.com Ransomware screenshot
Scroll down for full removal instructions
Usually we can group ransomware infections into two distinctive categories: those that do lock up your desktop and those that do not. By desktop lockup we mean the situation where the infection virtually covers your screen with a specific notification, and that note does not allow you to access your files. Then you need to do something to get around this inconvenience, and it could be more than annoying to figure things out. Luckily, Radxlove7@india.com Ransomware does not do that. The ransomware infection merely changes your wallpaper by displaying ransom note. The note says the following:
Attention!!!
All your files are encrypted!
To decrypt your files please contact us by email:

radxlove7@india.com

OR

Radix.love@aol.com
It is rather common to find at least two email addresses that are dedicated to communication between a ransomware program and its victims. For one, the server connection between the infection and its command and control center is often very unstable. It is not so surprising to come across programs that no longer have any connection with their C&C and, as a result, they cannot provide users with decryption keys. Thus, in case one of their servers go down, ransomware programs usually have more than one email account that is used for registering infected computers and communicated with affected users.
What would happen if you were to send the email to the given addresses? You would receive instructions about what you have to do next to restore your files. Needless to say, this infection would tell you that you must spend a particular amount of money and pay the criminals (usually in bitcoins). Otherwise, they will probably tell you that your documents will be destroyed if you fail to pay the ransom fee. Or even worse: the criminals might claim your files will be deleted if you were to try restoring them on your own.
In fact, the best way to restore the files that have been affected by a ransomware application is to transfer them back to your computer from an external backup drive. Perhaps you have an external hard drive where you keep copies of your files. Perhaps you keep most of your recent files on some cloud drive. Whichever it might be, we are sure that you have copies of your files somewhere (even if you do not remember it really), so it is always possible get at least a few of your documents back.
If that does not sound like an option to you, you can also wait for a public decryption tool to be released. It usually happens eventually, as there are quite a few of tools available right now. The only problem there is no one universal app: each ransomware program requires a different decryption tool.
In the meantime, you can remove Radxlove7@india.com Ransomware from your system, thus ensuring that this infection will not affect your files again, when you transfer them back to your PC. The manual removal process is long and tedious. You will need to remove all the executable files and several registry entries associated with this program. The executable files will all have random names that will look like a linguistic scramble. However, our security team points out that sometimes the file might start with "payload," so the file you would be looking might be Payload_c.exe or Payload1.exe.
If you think that manual removal is a little bit too much for you, you can always resort to using a professional antispyware tool. Since Radxlove7@india.com Ransomware does not lock up your screen, you can delete this infection with a computer security application in Normal mode. You do not need to restart your PC in Safe Mode with Networking. After the removal, you could also protect your system from other threats that might be lurking right behind a figurative corner.
How to Remove Radxlove7@india.com Ransomware
Press Win+R and the Run prompt will open.
Enter %APPDATA% and click OK.
Navigate to Microsoft\Windows\Start Menu\Programs\Startup.
Find and delete the random name .exe file.
Press Win+R and type %ALLUSERPROFILE%. Press the OK button.
Navigate to Microsoft\Windows\Start Menu\Programs\Startup.
Locate and delete the random name .exe file.
Press Win+R and type %WINDIR%. Click OK.
Go to the Syswow64 folder.
Find and delete the random name .exe file.
Go back to the WINDOWS folder and open the System32 folder.
Locate delete the random name .exe file.
Press Win+R again and enter regedit. Hit OK.
Navigate to HKEY_CURRENT_USER\Control Panel\Desktop.
On the right pane, right-click the Wallpaper value.
Remove it or change the wallpaper image path. Click OK.
Go to HKEY_CURRENT_USER\SOFTWARE\Microsoft\Windows\CurrentVersion\Explorer\Wallpapers.
On the right, right-click and delete the value with the value data C:\Users\user\Decryption instructions.jpg.
Go to HKEY_LOCAL_MACHINE\Microsoft\Windows\CurrentVersion\Run.
On the right pane, right-click and delete the values with the following value data:
%WINDIR%\Syswow64\*.exe
%WINDIR%\System32\*.exe
Scan your computer with the SpyHunter free scanner.
In non-techie terms:
There is nothing much you can do when you get infected with Radxlove7@india.com Ransomware. This ransomware program encrypts your files, which means you cannot open them anymore. However, even if you were to remove this application, the removal will not automatically restore your files. This should not discourage your from removing the infection because your computer's security should be one of your top priorities.