Do you know what Radiotabsearch.com is?
Finding Radiotabsearch.com in your Google Chrome browser as your new tab page could mean that your operating system has been infiltrated by a browser hijacker infection. This browser extension can put your virtual security in danger by exposing you to potentially unreliable web content through modified search results. So apart from the promised online radio accessibility, which you may find useful or great to have, you also get a risky search engine on top that could redirect you to malicious pages run by criminals if you happened to engage with the content displayed. Our researchers say that if you do not install this threat source from official sources, it is possible that you let it onto your system bundled with other malicious programs. This could mean multiple system security threats that should not be taken lightly even if these infections may not be the most dangerous kind. We suggest that you remove Radiotabsearch.com before it is too late and you infect your computer with more threats until its normal operation will be in danger. If you are ready to protect your PC, please continue reading our report to learn more about this browser hijacker and your options to restore your system security.
The most likely way for this extension to end up in your browser is for you to install it via free software bundles. It is possible that you do not remember downloading or installing such a package because a lot of times it happens when you click on fake buttons and links, i.e., disguised third-party ads. You may also click on a pop-up or a banner that tricks you into believing that you need a certain software upgrade or a new plugin to see particular content on the page. All these are simple traps to make you click. But once you engage with such content, you may drop a malicious package onto your machine. It is also possible that by clicking on a third-party pop-up ad you simply install this extension without even realizing it. If you do not want browser hijackers, adware programs, fake alert messages, and potentially unwanted programs to appear on your system, you should stay away from questionable gaming, pornographic, and file-sharing websites because these are the main platforms for distributing unreliable third-party programs and malware threats.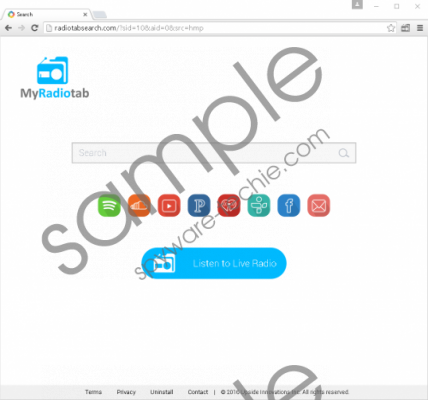 Radiotabsearch.com screenshot
Scroll down for full removal instructions
If you drop a bundle onto your system, it is very important that you be careful while installing it; although, cancelling the whole process would be advisable. Still it is possible that there is one free program in the package that you would like to use. What you should do is go for the custom or advanced installation option and deselect the components you do not wish to install. Sometimes only the license agreement reveals the real content of such a bundle; and, this is what most users do not bother to read at all. In any case, according to our researchers, you should be cautious whenever installing free programs. You should always stick to official sites and before even going there, it would be best to do a web search whether your targeted application is worth downloading at all. Because if you end up with a bundled version, it will not be enough for you to delete Radiotabsearch.com alone; you will need to detect all other possible threats as well.
This useless browser extension has official channels, too, through which you can install it. Its promotional page you can find at lp.myradiotab.com, which is a rather simple page indeed. Another place to find this tool is at the Chrome web store, chrome.google.com/webstore/detail/radio/kpjgjcgcmgdeflafndabngijgjiefcpn, as well as the creator's (Upside Innovations, Inc.) website at nupside.com. You will also see a number of similarly questionable applications on the latter site and we do not advise you having or keeping any of those on board if you want to protect your computer.
This browser hijacker provides you with a big blue button ("Listen to Live Radio") to simply redirect you to radiotuna.com. To be quite frank, if you want to use this online radio site, you should simply bookmark it and display your bookmarks bar to have it at the ready. This makes this questionable tool totally useless actually. Not to mention, of course, the fact that this hijacker may collect data about your online activities in an attempt to send customized ads and links to your screen. This is done through altered search results. This means that every time you run a web search through this tool, you risk being exposed to unreliable search results that could include ads and links pointing to malicious websites. Do not get confused by the fact that you find yourself on a Yahoo results page. This hijacker has the capability to modify the results. If you do not want to risk ending up on fake websites, such as online shops pretending to sell you your most wanted product at the "cheapest price available," you should remove Radiotabsearch.com right now.
It is really not that difficult to eliminate this threat. All you need to do is remove the extension called "Radio" through the settings of your browser. If you need help with this, please follow our guide below. Remember that there may be other threats on your system that may still expose you to potentially dangerous content. Therefore, you should make sure to remove all of them before you may have to face more security issues. You can try to find and delete all infections manually, but, if you are not an advanced user, it could be more effective for you to install a reliable anti-malware program instead that will also safeguard your PC from future attacks.
Remove Radiotabsearch.com from your browser
Google Chrome
Open the menu and go to More Tools.
Choose Extensions.
Find the extension called "Radio" and click on the trash can icon on the right.
Click Remove.
In non-techie terms:
Radiotabsearch.com is a potentially risky browser extension that only works in Google Chrome. This tool has been categorized as a browser hijacker due to its ability to modify browser settings, such as new tab page and search settings. Although this search page does offer you an easy-access link to an online radio website, it also provides you with an unreliable search tool that redirects all your searches to an altered Yahoo search results page that may contain potentially harmful ads and sponsored links. Should you click on these, you may be taken to malicious websites and get scammed or infected with more malware threats. This is why we recommend that you remove Radiotabsearch.com as soon as possible. If you are not the manual type, you should leave this to a professional tool, such as an anti-malware application.