Do you know what Rad Raven is?
Rad Raven is an adware application that is promoted as a useful browser extension. It is clear that nothing good coming come of it because this program belongs to the ever-growing family of adware applications called SuperWeb. The family if called this way because all the applications are supposedly created by SuperWeb LLC. Rad Raven will only slow down your browser and expose you to a series of annoying commercial ads. If you want to avoid various computer security issues, you are strongly recommended to remove Rad Raven immediately.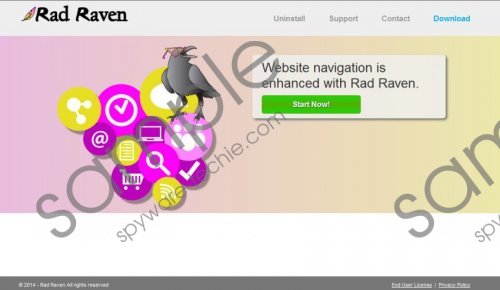 Rad Raven screenshot
Scroll down for full removal instructions
Quite often adware applications have official homepages. These homepages are usually there to make an impression that the program you have installed is legitimate. Granted, Rad Raven is not a malicious computer virus, and users install it onto their computers willingly. BUT, it does not come from radraven.info. None of the SuperWeb family applications, including Key Lime Lizard, SnipSmart or Spark Cast, has direct download links available. Therefore, if you have Rad Raven on your computer, it means that you have installed it together with other adware and freeware applications.
Have you installed a new program recently? Have you downloaded it from a third-party file sharing website? If the answers are yes, then it is clear why and how Rad Raven managed to find its way onto your computer. Nevertheless, even if you did not plan to install this application, there is no need to panic.
Rad Raven will install extensions on Mozilla Firefox, Google Chrome, and Internet Explorer web browsers. If your Google Chrome web browser is up-to-date, you will see that it blocks Rad Raven, saying that the application may pose particular privacy concerns. The problem with Rad Raven is that this application can be exploited by malevolent third party, and it also collects data on your web browsing habits.
The application needs this data so it could display customized commercial advertisements whenever you access popular online shopping websites. Nevertheless, this data might also be leaked to unreliable third parties and used for online marketing purposes. In the worst case scenario, Rad Raven could be exploited for malware distribution, and you could get infected with extremely dangerous computer threats.
Before any of that happens, remove Rad Raven from your computer and protect it with a licensed antispyware tool. It is not complicated to uninstall Rad Raven manually. All you have to do is delete the application via Control Panel. However, it would definitely be a good idea to run a full system scan with a computer security application of your choice, to search for other unwanted programs. Don't stop until you are sure your computer is safe and clean.
How to uninstall Rad Raven
Windows 8
Slide mouse cursor to the bottom right of your screen.
When Charm bar appears click Settings and go to Control Panel.
Go to Uninstall a program and remove Rad Raven.
Windows Vista & Windows 7
Open Start menu and click Control panel.
Go to Uninstall a program and remove Rad Raven.
Windows XP
Click Start menu button and go to Control panel.
Select Add or remove programs and uninstall Rad Raven.
In non-techie terms:
Rad Raven is a potentially unwanted program classified as adware. You might have installed the application yourself, but there is no use of keeping it on your PC. The sooner you remove Rad Raven, the better. Do not forget that adware programs are often misused by cyber criminals for their own malicious purposes.