Do you know what Rad Rater is?
There are many advertising-supported applications that might enter your system without your permission out there and Rad Rater is not an exception. This program not only slithers onto the computer without user's permission, but also performs different kinds of undesirable activities. For instance, it is capable of showing various commercial advertisements and collecting information about your online activities. Rad Rater acts similarly on all the most popular browsers, including Internet Explorer, Google Chrome, and Mozilla Firefox. Thus, if you use any of them, there is a huge possibility that this adware will cause you a great deal of inconvenience. Luckily, you can get rid of Rad Rater anytime. The process is not difficult itself; however, if you still feel that you need some help, you should definitely use the instructions that we have prepared for you.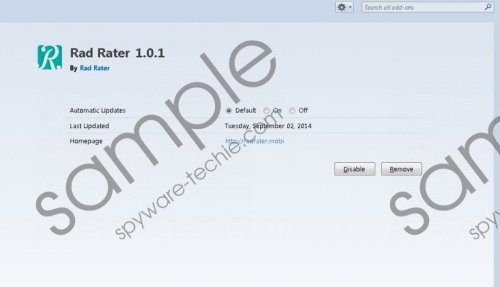 Rad Rater screenshot
Scroll down for full removal instructions
The main symptom that Rad Rater is present on your computer is the presence of ads with such tags as "Rad Rater Ads", "Powered by Rad Rater", "by Rad Rater", and the like. If you see these ads on your screen, there are no doubts that this advertising-supported application is installed on your system. We do not recommend clicking on any of these commercials if you do not want to cause harm to your system. The majority of ads are based on the information about your online behavior; thus, ads might seem decent and even useful. Adware programs use this tactics in order to lure computer users into clicking on commercials. Actually, it is not surprising at all because advertising-supported application just seek to drive traffic to particular websites.
It has been observed that Rad Rater does not differ from other suspicious programs published by SuperWeb LLC. It means that it not only acts as FlippyRoo, Albrechto, Cling-Clang, and other similar applications, but also enters the system using the same method as the aforementioned software. It means that Rad Rater travels bundled with different kinds of applications, especially freeware, and people install this program without planning to do that. Unfortunately, other undesirable programs tend to enter the system without user's permission as well, which is why you should be very cautious.
As Rad Rater is not a very serious computer infection, you will be able to eliminate it via Control Panel. However, if you cannot do that for any reasons, you should definitely scan your PC with an automatic malware remover. Reliable security tools will delete all the infections from your computer. Besides, they will protect your PC from various future threats.
How to remove Rad Rater
Windows 8
Tap the Windows key + R.
Type in control panel and then click OK.
Select Uninstall a program.
Find Rad Rater on the list.
Select it.
Click the Uninstall button.
Windows 7 and Vista
Open the Start menu.
Select Control Panel.
Click Uninstall a program.
Select the undesirable application.
Click the Uninstall button.
Windows XP
Click the Start button to open the menu.
Select Control Panel.
Click Add or Remove Programs.
Select the program that you are planning to remove.
Click the Remove button.
In non-techie terms:
Different kinds of undesirable applications are being published nowadays; thus, it is important to take care of your computer's security. The security experts of spyware-techie.com recommend that you install a security tool on your system. On top of that, it is advisable to find out more information about the program and download software from reliable sources only in order to prevent suspicious applications from entering the system.