Do you know what RaaS Ransomware is?
RaaS Ransomware is a serious computer infection which can be bought on the Tor network by anyone seeking to obtain money from people using unfair methods. This fact makes RaaS Ransomware rather exceptional, but still it is very similar to CryptoWall, which we presented some time ago. The main similarity between those ransomware infections is their ability to delete themselves after doing their jobs. In other words, RaaS Ransomware, like CryptoWall, will remove itself after encrypting your files. Even though you will not need to remove RaaS Ransomware, you should still take care of other malicious applications that might have entered your system alongside this infection. You can find out what is the easiest way to do that in this article.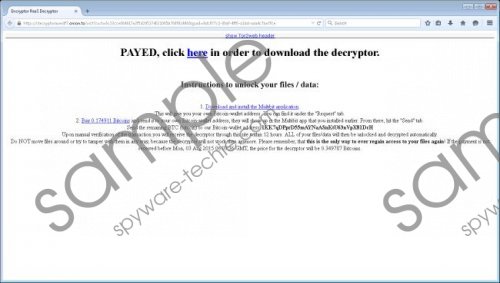 RaaS Ransomware screenshot
Scroll down for full removal instructions
RaaS Ransomware can affect hundreds of different files. Our specialists have found that this infection can affect files with such extensions as .cpio, .dds, .tga, .vhd, .xlsx, .zipx, .mso, .nba, .iso, .odt, .jst, .key, .kmz, and others. After doing that, it will place a .txt file with the instructions for the decryption. In addition, you will find there the confirmation that "the files on your computer have been securely encrypted by Encryptor RaaS." You will be offered to gain access to your files; the only thing that you will have to do in order to get the decryptor is to pay money. At first, the price is 0.174911 Bitcoins; however, if you do not make a payment before the stated time, the sum will double and you will have to pay 0.349787 Bitcoins. Actually, we believe that you should not make any payment because there are no guarantees that your files will be unlocked and you will be able to access them. Of course, nobody will give your money back too. Therefore, it would be wise to simply restore files from a backup and do not pay money for the people behind RaaS Ransomware.
If RaaS Ransomware has managed to enter your system, there is a huge possibility that other threats can easily do that as well. In order not to encounter infections similar to RaaS Ransomware ever again, you should stop opening spam email attachments. What is more, you have to make sure that your system does not contain malware because malicious applications might download other threats without your permission. Finally, you have to install a reliable antimalware tool on the system. It will not allow malware to enter your system if you enable it and keep it updated.
As has been mentioned, RaaS Ransomware deletes itself after the encryption of your files. Of course, it might leave some of its files on your system. On top of that, other malicious applications that helped RaaS Ransomware to enter your system might still be installed. Therefore, it would be really wise to scan the system with an automatic malware remover. It will make your system perfectly clean, but, unfortunately, it will not unlock your files. It is very important to install a really trustworthy tool in order not to cause much more serious harm to your system. Below you will find the instructions that will help you to download a trustworthy antimalware scanner SpyHunter.
In non-techie terms:
Ransomware infections are becoming more and more prevalent nowadays, so it is very important to be very cautious all the time. We highly recommend acquiring a reliable security tool because we do not think that you want to lose your files again. Our specialists also suggest that you always have a backup of your main files in case a malicious program still manages to slither onto your computer.