Do you know what QWebber is?
QWebber is an advertising-supported application which will enter your system and start showing commercial advertisements. This adware usually enters the system together with freeware and shareware, so if you tend to download programs that belong to these categories, you have to be extremely careful. Our specialists say that you should download free programs from their official websites in order not to end up with a bunch of untrustworthy applications. If you, unfortunately, have not protected your system and now see that QWebber is installed, you have to eliminate this adware as soon as possible and then take care of your system's safety. It is very important that you do that because SuperWeb LLC applications are very prevalent and they might enter your system very easily again.
Adware programs developed by SuperWeb LLC should not be kept on the system because they are useless and they might put your system at risk. The presence of QWebber itself is not dangerous, but we cannot say the same about advertisements that it generates. According to our researchers, you might end up on untrustworthy websites if you click on the ads labeled "brought by QWebber", "Provided by QWebber", or "Ads by QWebber" because untrustworthy links might be integrated into advertisements. Unfortunately, there is no doubt that QWebber is going to show ads only. It means that it will not enhance your browsing experience even if it promises to do that.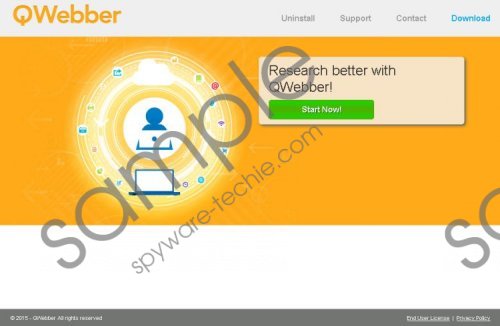 QWebber screenshot
Scroll down for full removal instructions
As has been already mentioned, SuperWeb LLC has already produced thousands of advertising-supported applications. They are based on the same template and each of them has a legitimate-looking website. According to our specialists, such programs as Spark Cast, LittleWeaver, ZoneTrek, Neurowise, and Global Gadget can enter your system. Make sure that you remove these programs the moment you notice their presence because they act exactly like QWebber and they are not going to do anything beneficial. Unfortunately, nobody can guarantee that you will not encounter malware ever again, but we still recommend that you take care of your system's safety. The easiest way to protect the system is to install an antimalware tool. It will be enough to keep it enabled in order to prevent malware from entering your system.
QWebber is just an advertising-supported application, so you will be able to remove it via Control Panel. If you do not know how to remove programs, you can use our manual removal instructions or you can acquire an antimalware tool and scan your system. In case you are going to remove QWebber manually, you should still scan your system with a diagnostic scanner because QWebber might have entered together with a bunch of untrustworthy applications.
How to erase QWebber
Windows XP
Navigate to the bottom-left corner and click Start.
Open Control Panel and click Add or Remove Programs.
Select the unwanted program.
Remove it from the system.
Windows 7 and Vista
Open the Start menu.
Select Control Panel.
Click Uninstall a program.
Select the program and click Uninstall.
Windows 8
Tap the Windows key + R simultaneously.
Type control panel in the box and click OK.
Click Uninstall a program.
Select the suspicious application.
Click the Uninstall button once again.
In non-techie terms:
Adware might hide on various untrustworthy websites but users usually download these programs from unreliable third-party websites and torrents. It is not so easy to recognize adware because these programs usually promise to act very beneficially and they do not inform users that they are ad-supported. As has been mentioned above, an antimalware tool can help you to block the way for malware.