Do you know what Quiknowledge is?
One of the newest advertising-supported programs that you might meet if you browse the web on a daily basis is Quiknowledge. This program claims to be a free search and translation utility; however, it is more likely that it is a simple advertising-supported program because you will be forced to notice various banners, text, pop-up, and video advertisements. They will appear on your screen without your permission and you will never know when this will happen. Thus, we believe that your browsing processes might be disrupted. The only way to stop all these ads is to erase Quiknowledge entirely from your system. You should know that changing the browser will not be helpful at all because this application is compatible with all of them.
You should be concerned about all these advertisements not only because they are really annoying, but also because they might expose you to different threats. Every time you click on them, you will be redirected to other websites that might be corrupted, which means that the possibility to infect your system with malicious software while browsing them is rather high. Thus, even though the program offers you the opportunity to highlight any phrase or word and then search and translate this information in a new window, you should definitely not admire this program too much because it might cause you more problems than you think.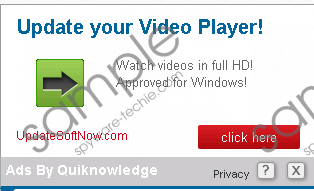 Quiknowledge screenshot
Scroll down for full removal instructions
If you notice another program called VideoDownloader running on your system, you should know that it might have come bundled with Quiknowledge. Even though it is not so easy to avoid various undesirable applications, you can definitely prevent most of them from getting on your system by selecting Advanced installation. This option will allow you to choose those programs that you want to install and unmark those that you do not need. You will definitely avoid all those unfamiliar applications and reduce the possibility to infect the system.
Are you prepared to erase Quiknowledge from your computer entirely? If it is so, you just have to follow the instructions provided below and this adware will disappear from your system. The automatic removal is also possible; however, you will need to acquire a reliable malware remover. We recommend using SpyHunter because it is the tool which will not only remove all the threats existing on your computer, but also protect it from future infections.
Quiknowledge removal
Windows XP
Open the Start menu.
Select Control Panel.
Click Add or Remove Programs.
Click on the useless application.
Select Remove.
Windows 7 and Vista
Click the Start button.
Select Control Panel from the Start menu.
Go to Uninstall a program.
Right-click on Quiknowledge.
Select Uninstall.
Windows 8
Right-click on the background of the Metro UI menu, which you can access by clicking the Windows key.
Select All apps.
Click on the Control Panel.
Select Uninstall a program.
Right-click on the software that needs to be erased.
Select the Uninstall button.
In non-techie terms:
If you have already erased Quiknowledge from your system, you should know that it is necessary to scan your system with a reliable antimalware scanner after the manual removal. It will scan your system and show if there are no other infections left on your PC. You can download a free scanner by clicking on the Download button below. Install the tool and launch the scanner.
Aliases: Quiknowledge virus.