Do you know what Quickseeker.net is?
When your browsers have been attacked by a browser hijacker, you may notice, for example, Quickseeker.net as your new homepage when you launch your browser. Most hijackers will also modify your default search engine as well, while some may also set your new tab page. And, of course, all this without your knowledge, behind your back. This is a serious breach of your privacy since an application makes arbitrary changes to your system, in other words, this hijacker takes control of your browsers. Some people do not even care about these changes and simply leave the hijacker on board. Most probably they are not aware of the consequences of such negligence. That is why we are here, so that we can share with you what our researchers have found while testing this malware infection in our internal lab. If you want to protect your computer, you should remove Quickseeker.net as soon as possible. Read our full report if you would like to find out more.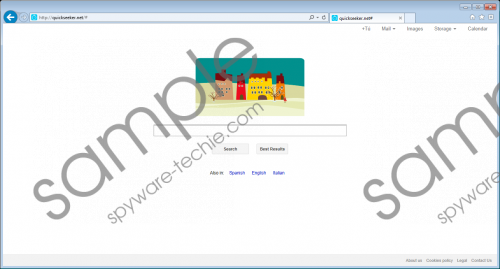 Quickseeker.net screenshot
Scroll down for full removal instructions
This browser hijacker has been found identical to a number of other hijackers, such as Quick-Seeker.com, quickseeker.info, and quickseeker.com. You should never trust any of these search engines. We always recommend that users use their preferred reputable search engines because there are lots of fake and harmful ones that most commonly emerge on computers via freeware bundles. This hijacker is no exception, of course. But, if this infection has found its way to your system, it is quite possible that there are other malware programs, too, because they rarely travel alone. If you have noticed annoying third-party pop-up ads while browsing the web, there is a good chance that you have also been infected with adware. All these infections may expose you and your system to unreliable websites and cyber criminals. You have to make sure that after you delete Quickseeker.net, you also eliminate all other potential threats as well.
Quickseeker.net is totally useless because it does not even generate its own results for you, but, instead, it redirects you to a Google.com search results page. However, it is a trap. Obviously, most users would accept these results as authentic and trustworthy coming from Google.com. But you need to know one important detail: This hijacker may manipulate those search results. It can insert third-party links and ads of affiliated companies in order to drive traffic to their sites, after all, that is what this search engine is about; and definitely not about serving you with the best results you can find. Unfortunately, these third parties are rarely reviewed, if at all; thus, you cannot trust these links and ads because you might end up on questionable websites to say the least. If you do not want to find out yourself what might happen when visiting such sites, you should remove Quickseeker.net right now.
It is time to talk about the solution, the cure for this intrusive infection. Quickseeker.net has no uninstaller, which means that you cannot find it in the list of installed programs in Control Panel where you can usually uninstall applications. Instead, you need to reset your browsers so that both the homepage and search engine settings will be set back to default. If you have never done that before, please use our instructions below. Since it is very important to protect your PC against malware threats, we recommend that you consider installing a decent antimalware application that will take care of all the security-related issues and safeguard your operating system from similar invasions.
Quickseeker.net Removal from Browsers
Google Chrome
Press Alt+F and choose Settings.
Click Show advanced settings at the bottom.
Click Reset settings at the bottom.
Click Reset.
Internet Explorer
Press Alt+T and open Internet Options.
Choose the Advanced tab and press Reset.
Tick Delete personal settings and click Reset.
Click Close.
Mozilla Firefox
Press Alt+H and select Troubleshooting Information.
Press Reset Firefox at the top.
Press Reset Firefox in the confirmation window.
Press Finish.
In non-techie terms:
Quickseeker.net is a useless search engine that may show up in your browsers without your permission. Therefore, it has been categorized as a browser hijacker. Not only is its presence on your computer illegal, this hijacker may also present to you unreliable and harmful third-party websites. Since this infection can come bundled with other malware threats, there is a good chance that you have multiple security issues on your system. We advise you to take action right away and remove Quickseeker.net. In order to have a clean and safe computer, you should detect and eliminate all other threats as well. We suggest that you use a professional malware removal tool for that, which will also protect you from any harm in the future.