Do you know what QuiBids Ads are?
QuiBids Ads are commercial advertisements that display third party content and appear on a number of websites. Whenever users are flooded with similar advertisements they get an impression that they might be infected with adware or similar unwanted software. However, there are two main reasons as to why you might be seeing QuiBids Ads on your computer – unreliable website or adware infection. Therefore, if you want to remove QuiBids Ads you either need to close the website you are currently on, or you should run a full system scan to detect an adware application on your PC.
These commercial advertisements may appear on a variety of different websites, and they promote whatever information gets embedded into them. It is very likely that QuiBids Ads do not review the content they display. So you may see ads that promote new iPads, digital cameras, tote bags and other goods. It is up to you whether you want to click them or not, but, naturally, computer security specialists strongly advise against clicking QuiBids Ads, because you can never know whether you would be redirected to a reliable website or not.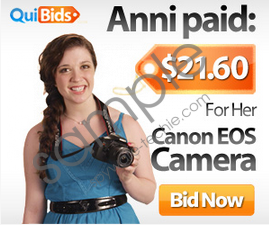 QuiBids Ads screenshot
Scroll down for full removal instructions
In case these advertisements are displayed directly on a website, there is no need to worry. If the QuiBids Ads you are seeing are plain advertisements, it is very likely that your computer is clean and there are no threats on it – you have simply opened an ad-ridden website that constantly displays pop-ups and other types of advertisements. For example, QuiBids Ads can be encountered on such websites as hokeydb.com or mediatakeout.com. In such a case, in order to get rid of QuiBids Ads, you simply need to close the website's window and stay away from it.
However, in some cases, QuiBids Ads may appear on Facebook, YouTube and other social networking websites. Whenever that happens, you have a reason to believe that your computer has been infested with adware. QuiBids Ads are associated with Buzz-It adware and other similar applications that, fortunately, can be removed from the PC via Control Panel.
If you are not sure whether your computer is full of adware applications or not, run a full PC scan with SpyHunter free scanner. If you detect any adware programs, remove them manually via Control Panel and then scan your computer again to make sure that all the files and registry entries have been deleted. Finally, do invest in a powerful antimalware application to protect your computer from potential threats and avoid clicking adware pop-ups in the future.
Please, do not hesitate to contact us if you have any computer security-related questions.
How to remove adware programs
Windows 8
Move mouse cursor to the bottom right corner of the screen.
Wait for Charm bar to appear and then click Settings.
Go to Control Panel and select Uninstall a program.
Remove all the adware applications you find.
Windows Vista & Windows 7
Open Start menu and select Control Panel.
Go to Uninstall a program and remove adware applications.
Windows XP
Click Start menu and navigate to Control Panel.
Open Add or remove programs and uninstall adware applications.
In non-techie terms:
QuiBids Ads appear on your browser's window when you either open a website that is full of adware or you have an adware application installed on your computer. Close the website that displays QuiBids Ads and then scan your PC with a reliable application to detect an adware application responsible for QuiBids Ads (if any).