Do you know what Qubiv is?
According to our malware researchers, Qubiv is an ad-showing browser extension and have classified it as adware. Therefore, this application is useless and you ought to remove it as soon as possible. Another reason for getting rid of it is the fact that its annoying and invasive ads come from unknown sources and may redirect to infected websites. We believe that this application is a potential security risk, so if you have it on your browser, then we invite you to read this short description.
Let us begin our analysis with the details regarding this program's origins or the lack thereof rather because there is no information about the company that developed and published it. All we know about it is that its secretive developer has released dozens of similar programs, such as ArcadeBunny that belongs to Arcadebunny.com and ArcadeSwim that belongs to Arcadeswim.com. Hence, Qubiv also has a website at Qubiv.com, but neither this nor the above-mentioned applications can be downloaded from their related websites.
Our malware researchers have found that this application is distributed via software bundles. Indeed, shady freeware website owners bundle free software with other programs that are usually of questionable legitimacy, distribute them and get paid for it. Hence, you might encounter Qubiv when installing a free media player or some other free application and you may or may not be offered to deselect its installation, but it is likely that its installation is checked to install by default. Therefore, you ought to select advanced or custom installation settings whenever you install software from freeware websites.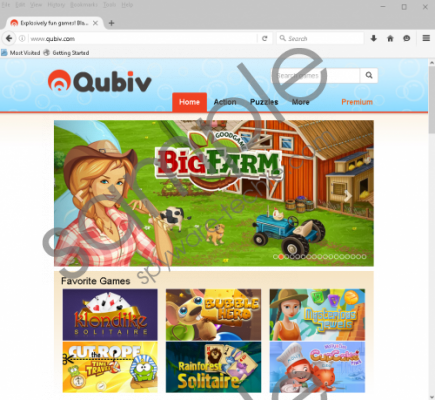 Qubiv screenshot
Scroll down for full removal instructions
Officially, Qubiv is an application that sets out to allow you to play Flash games online, but it has little to do with that. While the website features functional, fun games, this application does not do anything. It is not required to access the website and does not offer any benefits for which you should keep it even though its Terms of Use say that "Premium Games are offered free of charge on the Site in exchange for your agreement to install the Qubiv software or add-on/extension (collectively, the "Software")." So what is the purpose of this application? Let us find out.
Our researchers have analyzed this program and have come to the conclusion that it is adware because it is set to show you advertisements that can come as in-texts, pop-ups and pop-unders, coupons, banners, and so on. The ads served by this program are labeled with Qubiv's logo and are clickable, meaning that they redirect to a website. Also, Browser tabs opened by the software will include a Qubiv-branded bar. The problem we have with this application is that its developers do not take responsibility for the content they promote as stated in the Privacy Policy that reads "we do not endorse the advertisements, products or other materials of the Third Party Content." We suspect that at least some of the promoted content comes from unknown unvetted sources. Therefore, we recommend that you get rid of this browser extension and keep your PC out of harm's way.
In closing, Qubiv is a low-grade adware whose real and only purpose is to generate advertising revenue by showing you intrusive and possibly malicious ads. There is no way of knowing whether the content it promotes is legitimate and due to the fact that there is no information about its developer, we think that this adware may show links to questionable sites. So please refer to the removal instructions below on how to delete this browser extension.
Remove this adware from the browser
Mozilla Firefox
Press Ctrl+Shift+A.
Click Extensions.
Find the extension and click Remove.
Restart the browser.
Google Chrome
Press Alt+F.
Click More tools.
Go to Extensions.
Find the unwanted extension.
Click Remove.
In non-techie terms:
Our security experts say that Qubiv is a browser extension designed for showing commercial advertisements that are annoying and intrusive. There are also likely to jeopardize your computer's security because there is no way of knowing whether they are legitimate. So this seemingly safe program can actually put your computer's security at risk, so you ought to remove it.