Do you know what QuantumCoupons is?
QuantumCoupons is a neat name for an ad-supported program, but this does not mean that it is good. We regard this application as malicious and suggest that you remove it from your PC as soon as the opportunity arises. This program is set to promote various websites of unverified legitimacy, so it is possible for it to advertise malicious software and scam websites. As a result, your computer's security can become compromised as certain malware can spy on you, collect sensitive information, and in some cases take control of your PC. Therefore, you should not keep programs such as this one because it can open a backdoor to other infections. Please read this whole description for a more detailed analysis of QuantumCoupons.
Let us begin with this program's origins. Our researchers have linked this program with the likes of Social Pogo, Flexible Family, BuiltMoneyMaker, and Diet Bright. Hence, all of these programs were released by the same group of developers. However, these developers do not want any attention, so they do not sign their applications, and there is no way to contact them. Furthermore, we do not know whether this group of developers has a legitimate software-developing company. This fact makes QuantumCoupons and it counterparts all the more suspicious and as you will learn — nothing good can come from them.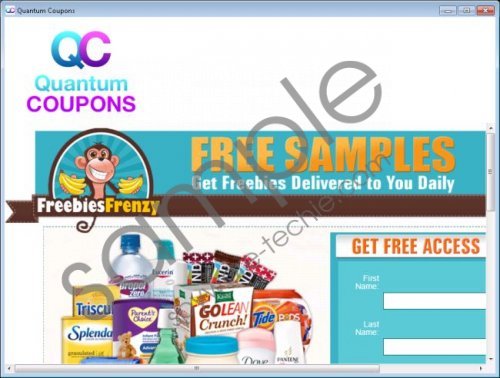 QuantumCoupons screenshot
Scroll down for full removal instructions
Now let us talk distribution. Our researchers have found that this adware is currently distributed on its dedicated website at Quantumcoupons.com. This site is considered malicious and is blocked by many anti-malware programs. If you do not have an anti-malware program to keep your computer out of harm's way, then you are free to visit this website. It features a big blue download button that if clicked will initiate the download of this program's installer. Our researchers say that this program uses the InstallCore installer. This fact is very significant because this installer is bound to come bundled with additional software. Our analysts say that it can come bundled with potentially unwanted programs, such as FLV Player, Foxtab PDF Converter, System Healer, and so on. In some cases, it might even come bundled with browser hijackers that are set to change your browser's homepage. Oddly enough, QuantumCoupons is promoted via browser hijackers that include the link to this program's website in their search results. All in all, this program's distribution method is rather dishonest because you might think that you got a good program when in fact it is the opposite.
Similarly to its counterparts, QuantumCoupons was configured to subject you to its promoted websites using two methods. The main one is rather innovative. This program renders a Graphical User Interface window that loads its promoted websites. This window is set to appear at random, but you can close it at any time. Our researchers say that for the time being this program promotes a website Musicrule.com/choose via this GUI window. Similarly, this program will also open Internet Explorer randomly and load pages such as Freebiesfrenzy.com, but you can close this browser at any time as well. The problem is that these windows are constantly opened, and they hinder your computing session. The main issue, however, lies in this adware's ads. It is likely to promote various websites of unknown origins, and these websites may contain links to scam websites or malicious software downloads. As a result, you may be scammed by a fake online shopping website or your computer might become infected with malware such as ransomware, spyware, keyloggers, and so on.
Therefore, we believe that this seemingly safe application can inflict serious damage on your computer, and compromise is safety. So we recommend that you remove it using our instructions. This program has files in six different folders and five registry keys, but our researchers say that you do not have to delete them manually, since uninstalling this program via Control Panel is enough. So do not hesitate to remove QuantumCoupons using our simple guide.
How to uninstall this adware
Windows 10
Press the Windows+X keys.
Click Programs and Features.
Find the program.
Double-click on it and Uninstall it.
Windows 8 and 8.1
Open the Charm bar.
Click Settings and go to Control Panel.
Open Uninstall a program.
Find the unwanted program and click the Uninstall button.
Windows 7 and Vista
Click Start and select Control Panel.
Click Uninstall a program.
Find the malicious program and click Uninstall.
Windows XP
Click Start menu.
Go to Control Panel.
Select Add or Remove Programs.
Find the adware and click Remove.
In non-techie terms:
QuantumCoupons is a malicious application that our researchers have classified as adware. This program's sole purpose is to generate advertising revenue by subjecting you to questionable content. In more extreme cases this program might promote malicious software and scam websites that can compromise your computer's security. So we advise you to remove this adware as soon as you can.