Do you know what Qipapp Ads is?
Qipapp Ads is a malicious application categorized as a Trojan so if you noticed it on your system you should get rid of it immediately without any hesitation. Luckily, deleting it manually is not especially challenging; users who need assistance can follow the removal guide located below the main text. However, before you rush to eliminate this Trojan, we would advise you to learn more about it from our report. In the text, we will discuss the malicious application's working manner and its possible distribution channels. Therefore, if you wish to avoid threats like Qipapp Ads in the future, finding out more about such malware is essential and if there is anything else you would like to know about this threat you can leave us a message in the comments section.
Our researchers inform us Qipapp Ads is most likely distributed through bundled software installers. You should always keep it in mind that if you download setup files from unreliable file-sharing web pages the chances are they could be bundled with potentially dangerous applications and if you choose automatic installation instead of picking advanced or custom settings, the configuration wizard may automatically install optional software without notifying you. Because of this, we recommend downloading setup files only from legitimate web pages or paying more attention to the installation process. Plus, it might be a smart idea to place a reputable antimalware tool on the system as this way the user could be warned about malicious installers or other threats before they get any chance to affect the system.
Qipapp Ads installs itself by creating folders with data in it in the following directories: %APPDATA%, %PROGRAMFILES(x86)%, and %PROGRAMFILES%. Then the malicious application may start working as adware helper. It means the threat could be allowing other unreliable programs to show you suspicious advertising content, e.g. irritating pop-ups, banners, sponsored links, and so on. These advertisements could be displayed while the user is surfing the Internet or they might be opened automatically with the default browser. The ads may promote adult or gambling web pages, sites distributing similar threats, web pages offering to participate in fake lotteries, etc. Needless to say, interaction with such content could be dangerous both to your system's and privacy's safety, so the best option would be to avoid any questionable advertisements.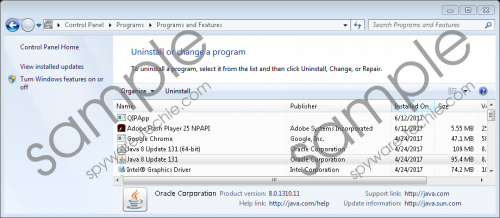 Qipapp Ads screenshot
Scroll down for full removal instructions
Furthermore, users who encounter Qipapp Ads should know that the Trojan might collect some information while the user is browsing, e.g. it could record clicked advertisements, purchased goods, visited web pages, used search keywords, and so on. Given the application is considered to be malicious there is a possibility it could try to gather private information too; thus, users should be extra cautious while submitting any personal information on the Internet as long as the malware remains on the computer.
All things considered we believe it would be safest to get rid of Qipapp Ads rather sooner than later since it could put your system at risk and cause you other trouble as well. Those who feel up to the task should try the removal guide located below and erase the malware manually. As for users who do not feel experienced enough we would recommend employing a reputable antimalware tool. In fact, the threats appearance on the system might suggest there could be more potentially dangerous software installed, so performing a full system scan with a trustworthy security tool would be most advisable.
Erase Qipapp Ads
Press Windows Key+E.
Navigate to the listed locations:
%APPDATA%
%PROGRAMFILES(x86)%
%PROGRAMFILES%
Look for folders titled as QIPApp.
Select directories named QIPApp separately and press Shift+Delete to erase them permanently.
Close File Explorer.
Reboot the system.
In non-techie terms:
Qipapp Ads might be the reason why you see so many suspicious advertisements lately. Our researchers believe the application is adware helper. In other words, it is a program that might enable other unreliable software to place various third-party advertisements. The worst part is that such content might be not just annoying, but also potentially dangerous. Apparently, it could promote malicious web pages, adult content, and so on. Provided you do not wish to see such ads anymore we advise you to eliminate the Trojan either with a reputable antimalware tool of your preference or the removal guide located slightly below this text.