Do you know what Purge Ransomware is?
Opening emails can be dangerous. Misleading emails could trick you into opening corrupted attachments and let in Purge Ransomware. Once this malware slithers in – and it is unlikely that you will notice it – it will use an encryption algorithm to jumble the data within your files to make them unreadable. If this threat is successful, you will not be able to play media files, open your documents, or view photos. If this threat has already corrupted your files, you must have noticed the ".purge" extension attached to them. This extension is what has determined the name of the ransomware. Some might also recognize it as Globe Ransomware because of the "GLOBE" window that is represented via the "How to restore files.hta" file. This file is created right after the encryption is completed, and it is meant to push you into paying a ransom. Whether or not you have already paid the ransom, you should read the report to learn how you can delete Purge Ransomware from your operating system.
The malicious Purge Ransomware is very similar to Okean-1955@india.com Ransomware, Troldesh Ransomware, Smrss32 Ransomware, and all other infections from the same group. All of these threats invade systems and lock down files to have leverage when demanding a ransom payment. They encrypt files silently, but, after that, they use various means of communication. For example, Purge Ransomware can change your Desktop wallpaper to showcase a scary image urging you to email the provided address, which is powerbase@tutanota.com. The infection also creates the "How to restore files.hta" file to introduce you to specific instructions. The message within the file informs that you have one week to contact the developer of the ransomware with your personal ID and pay the ransom to get a decryptor that supposedly can decrypt your files. It is also stated that the RSA encryption method is used for the encryption of your files, and this algorithm is impossible to crack.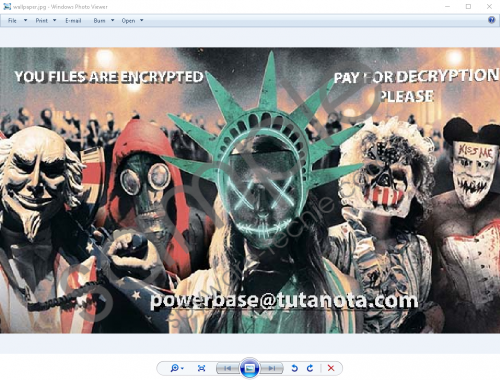 Purge Ransomware screenshot
Scroll down for full removal instructions
It is most likely that Purge Ransomware has created a decryption key that would help decrypt the files that were corrupted. Otherwise, it would not be able to decrypt one file that it promises to decrypt via the ransom note. Does that mean that the creators of this ransomware will provide you with a decryptor once you pay the ransom? Although they are capable of doing that, no one can tell you if they will. Our malware research team warns that many ransomware victims give up their money for nothing because cyber criminals do not keep their promise to provide them with a decryption tool. If you cannot afford to take the risk, paying the ransom is not the solution for you. Are you scared about using third-party decryption tools? If you use legitimate tools, there is nothing to be scared about. However, we cannot claim that a tool capable of deciphering Purge Ransomware algorithm exists.
In the best case scenario, your files are backed up, and you can remove Purge Ransomware right away. If your files are not backed up, one thing you can take away from this incident is that protecting your files is crucial. Even if you do not encounter another ransomware in the future, your PC might experience physical damage leading to the loss of data. If you do not have money to invest in an external drive where you could keep the backup copies of your files, you can use free online storage services, and so there is no excuse. Right now, unfortunately, you might need to say goodbye to your files. In any case, whether or not you get your files back, removing Purge Ransomware is crucial, and you have two options. You can use the manual removal guide below, or you can employ anti-malware software that will erase the threat automatically. Of course, we advise using the software because it can ensure further protection as well.
Delete Purge Ransomware
Simultaneously tap Win+E to launch RUN.
Enter C:\Users\user\AppData\Local (or %LOCALAPPDATA%) into the bar at the top.
Right-click the file named msiscan.exe and select Delete. Note that the name might be different in your case.
Run a full system scan to check if your PC is now clean.
Afterward replace the Desktop wallpaper and delete the How to restore files.hta file.
In non-techie terms:
Purge Ransomware is a serious threat, and it can lead to the loss of your files. If you are unable to decrypt your files yourself, you might see the paying of the ransom as your only choice, but you must keep in mind that paying the ransom is very risky. In fact, no one knows if you would get a decrypter if you paid it! When the time to delete Purge Ransomware comes, we advise implementing anti-malware software that can erase all threats automatically, but you might also be successful with manual removal. Of course, if you choose the latter option, keep in mind that your PC is still vulnerable and that you need to invest in reliable security software as soon as possible.