Do you know what PureLeads is?
PureLeads is an adware program developed by Pureleads and available at pureleads.com. The application may also be bundled with other programs, and if you think that your computer is infected because you find unwanted pop-up coupons, it means that you have installed the application by mistake. PureLeads injects its malicious code into the website that you access so that you are provided with special offers and other shopping related information. The coupon can appear on Amazon, Walmart, Best Buy, Target, and other popular websites. If you find that this application is not for you, take immediate action to remove it from the computer.
Bear in mind that the official website of the application does not have its Privacy Policy, Terms of Use or other information, which you should take into account before starting to use the application. However, the odds are that PureLeads, similarly to other adware programs, monitors your behavior. More specifically, it may record your search queries, click/impressions, the URLs of the websites that access, information on your operating system and browsers, and similar details that can be used for improving the quality of the service. However, it is possible that the application attempts to acquire some personally identifiable information. In order not to receive more pop-up coupons or even spam emails, which can be done if you reveal your e-mails address, remove PureLeads from the computer and make sure that the computer is shield from malware and spyware attacks.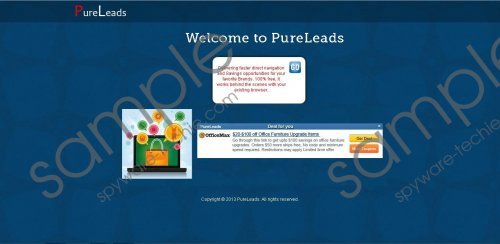 PureLeads screenshot
Scroll down for full removal instructions
If you are eager to try the PureLeads coupons, bear in mind that the creators of the application are likely to have nothing in common with the websites that you provided with after clicking on the coupons. Moreover, some of the coupons may be unrelated to your search terms.
The application is also known to be identical to Sendori. The developers of the application help advertisers and publishers to drive more traffic to their websites and increase revenues.
If you are not satisfied with PureLeads, do not keep it on the computer any longer. Remove the application with the help of the following instructions or a spyware removal tool. We recommend that you choose the latter, because a legitimate anti-spyware tool will also protect the computer against various computer threats. Our advice is to SpyHunter because this application can save your time, money and energy.  If the computer contains unreliable programs installed before the installation of the unwanted application, they will also be removed from the system.
How to remove PureLeads
Windows Vista and Windows 7
Open the Start menu.
Click Control Panel.
Select Uninstall a program.
Remove the unwanted application.
Windows XP
Click Control Panel.
Select Add or Remove Programs.
Uninstall the unwanted application.
Remove PureLeads.
Windows 8
Move the mouse to the lower-left corner of the screen.
Right-click.
Select Control Panel.
Select Uninstall a program.
Remove the adware program.
In non-techie terms:
PureLeads is an adware program which can flood you with various coupons and special offers. In order to remove the program, follow the above removal instructions or implement a reliable spyware removal tool.
Aliases: Pure Leads.