Do you know what PufferMind is?
PufferMind is a potentially unwanted application that our research lab team labels as an adware program. Therefore, disregarding the official function of this application, PufferMind displays a behavioral pattern that is common to a number of annoying adware applications. Adware programs are created to collect data on web browsing habits in order to generate customized advertisements. If you want to avoid an onslaught of annoying pop-ups and potential computer security issues, please remove PufferMind from your computer immediately. We provide manual removal instructions below this description.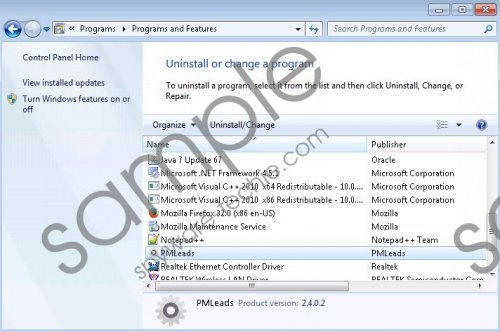 PufferMind screenshot
Scroll down for full removal instructions
According to our research, PufferMind is very similar to PastaQuotes and Donut Leads adware applications. It also has an official homepage via puffermind.com, but it is not possible to download the application directly. Just like other similar adware applications, PufferMind often arrives at the target system bundled with third-party installers. The installers that are known to distribute PufferMind include DomalQ, Premium and Vittalia, most of which can be easily found on Softonic, Filewin, Brothersoft, Cnet, and other third-party file sharing websites. This means that users install this adware application on their computers themselves, even if they do not realize it. If you want to avoid installing this application, please refrain from downloading software at third-party websites. You should also read all the installation steps carefully.
When PufferMind enters your system, it does not add any extensions or add-ons to your browser. The program has only one process that runs in the system background called PMLeadsService.exe. With this process, the application can collect data on what websites you visit and what you search for online. Later on, just like other adware applications, PufferMind uses this data to generate customized commercial advertisements. These advertisements might also be branded as PMLeads, Ads by PMLeads or Provided by PMLeads, but it is still the same application.
Due to the fact that PufferMind enters your system without your permission, you should not tolerate this program on your computer. Even though adware apps are not malicious computer infections, they can still expose you to serious computer security issues, and so the sooner you uninstall PufferMind, the better. Do not forget that you will also need to terminate other potentially unwanted applications that might have been installed together with PufferMind.
Scan your system with the SpyHunter free scanner to determine what other programs must be deleted from the PC. After manual removal, scan your computer again; just to make sure that all the unwanted files and applications have been taken care of. For any further questions, you can leave us a comment.
How to remove PufferMind
Windows 8
Move mouse cursor to the bottom right of your screen.
Click Settings on Charm bar and go to Control Panel.
Select Uninstall a program and remove PufferMind.
Windows Vista & Windows 7
Click Start menu and go to Control Panel.
Open Uninstall a program and remove PufferMind.
Windows XP
Open Start menu and navigate to Control Panel.
Select Add or remove programs and uninstall PufferMind.
In non-techie terms:
PufferMind is a program that should not remain on your computer if you care about your system security. Please make sure that you remove PufferMind immediately, and if you would prefer an alternative software removal method, refer to the secondary set of instructions below this description.