Do you know what PubAppBrowser is?
If your browser is filled with numerous third-party ads and annoying pop-ups, your PC might be infected with an adware program known as PubAppBrowser. Malware experts at Spyware-Techie, has thoroughly analyzed this adware and have discovered some alarming features that it exhibits. This adware program will fill your browser with numerous third-party ads and pop-ups. Unfortunately, this is not all that PubAppBrowser does. In some cases, it was noticed that this adware could act in a malicious way by attracting other suspicious and potentially dangerous programs. Do not hesitate to remove this adware program from your system as it is your best bet to keep your system entirely clean.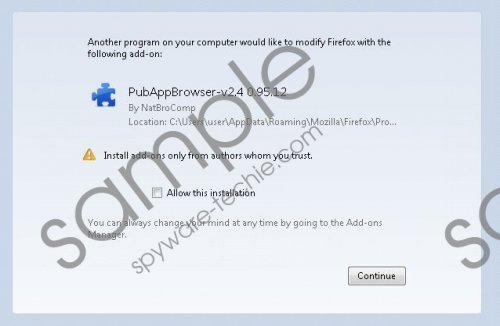 PubAppBrowser screenshot
Scroll down for full removal instructions
The research conducted at our internal labs has shown that PubAppBrowser is based on the Crossrider engine. This particular engine is used by other suspicious programs such as Shoppy-Up, SuperPlusRadio,BingTracker, Gohd, and quite a few others. Just like the mentioned applications, this adware infection relies on browser extensions to present you with numerous third-party ads and annoying pop-ups. These ads and pop-ups will be shown whether you like it or not. The only way to stop this annoying activity is to thoroughly remove PubAppBrowser from your PC.
The research has also shown that PubAppBrowser, might expose you to suspicious third-party web content. Some adverts provided by PubAppBrowser could be implemented with redirect links, which could lead you to websites promoting potentially harmful content. You could end up on websites that might be running an arbitrary code execution exploit, which infamous for being used by malware distributors. Just landing on such a website is enough to get your operating infected with some unknown Internet-based infection. Do not take any chances with such adware programs, as it could have devastating outcomes. It should be more than obvious why the removal of PubAppBrowser is so essential.
Our research team has also discovered that PubAppBrowser is mostly distributed via software bundles. If you want to keep your PC clean and secure at all times, you should avoid questionable third-party download websites. In addition to that, we firmly advise you to implement a reliable antimalware tool as it will warn you about various suspicious websites and potentially harmful installers.
The PubAppBrowser removal guide crafted by our malware experts is easy to use and will help you delete PubAppBrowser in no time. Pay as much attention as possible while conducting the removal of this adware as just one mistake could mean that the infection is not removed entirely. Only a single file or a registry entry could be used to restore the unwanted application.
How to delete PubAppBrowser
How to delete P
PubAppBrowser
from Windows Vista and Windows 7
Click the Windows button an select Control Panel.
Click Uninstall a program.
Double-click the unwanted application to remove it.
How to delete PubAppBrowser from Windows XP
Click the Start button.
Select Control Panel and click Add or Remove Programs.
Uninstall PubAppBrowser.
How to delete PubAppBrowser from Windows 8
Move the mouse pointer to the lower-left corner of the screen.
Right-click and select Control Panel.
Click Uninstall a program.
Select PubAppBrowser and click Uninstall.
In non-techie terms:
If you are not comfortable removing PubAppBrowser manually, please follow the instruction that we provide below. The alternative removal method will certainly delete completely from your operating system, so you will not have to worry about the potential leftovers.