Do you know what Pshcrypt Ransomware is?
Pshcrypt Ransomware is a threat that you do not want to face because it can encrypt your precious personal files and then demand a ransom in return of their decryption. This devious infection joins such dangerous and well-known threats as Jokers House Ransomware, AES-NI Ransomware, and Xpan Ransomware. Unfortunately, ransomware infections are very "popular" nowadays because they are very lucrative. Once the threat is in, it can hijack all personal files without leaving you any options to fix the situation yourself. In most cases, ransomware is highly complex, and the victims find themselves unable to do anything else but pay the ransom that is demanded. The thing is that only in rare cases do cyber criminals provide the victims with working decryptors, and, of course, that means that paying the ransom is too risky; especially where big sums are requested. Luckily, it appears that you can remove Pshcrypt Ransomware after decrypting your personal files for free. Keep reading if you want to learn more.
It is not yet clear how the devious Pshcrypt Ransomware spreads, but the chances are that you have executed this infection by opening a corrupted spam email attachment. This is how most ransomware threats slither into the targeted operating systems. Once the infection is executed, it should show a pop-up from "Security Essential" indicating that the file is malicious and, therefore, will be removed. Of course, that is a trick to make you think that the launcher of Pshcrypt Ransomware was deleted. Considering that the message is represented in broken English, you might be able to tell that something is wrong right away. You should also be surprised to find that your operating system restarts soon after that. If you do not eliminate the ransomware by this point, you will be greeted with a warning suggesting that your computer has run into some problems. If you click the "OK" button represented via this warning, your screen is automatically locked, and a ransom note appears.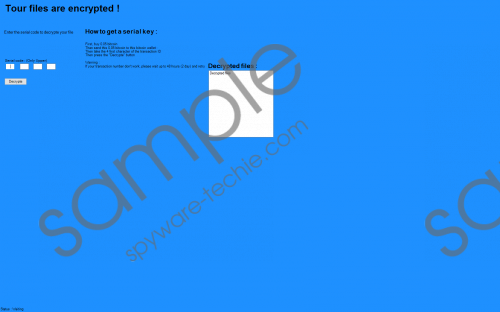 Pshcrypt Ransomware screenshot
Scroll down for full removal instructions
The ransom note representing the demands of Pshcrypt Ransomware creator is in broken English as well, but the request is still legible. According to the message, you need to send the amount of 0.05 BTC (~83 USD) to a specific Bitcoin Wallet. In our case, this wallet was not specified, making the payment of the ransom impossible. The situation might be different in your case. Although the ransom fee is not that high, you should try to enter "H B G P" into the "Serial code" area first. Hopefully, you will have your personal files decrypted after this. Speaking of files, the devious Pshcrypt Ransomware attaches the ".psh" extension to all of them to make it easier for you to spot them. Note that you cannot just remove the extension to decrypt the file.
Hopefully, you can decrypt your personal files using the "H B G P" code; however, your computer will remain paralyzed anyway. The instructions below show how to reboot your PC into Safe Mode and then delete Pshcrypt Ransomware components. Alternatively, you can restart your PC in Safe Mode with Networking and then install automatic malware detection and removal software. This option is the best if you are inexperienced, and you are not able to delete the ransomware manually. If you face any problems with the elimination of this threat or any other infections that might be active, do not hesitate to start a discussion in the comments section below.
Reboot your computer
Windows 10
Click the Windows logo on the Taskbar.
Click Power.
Press the Shift key while clicking Restart.
Select Troubleshooting.
Move to Advanced options.
Click Startup Settings.
Click Restart and wait for a new menu to appear.
Select F4 (Safe Mode) or F5 (Safe Mode with Networking).
Remove the ransomware.
Windows 8/Windows 8.1
Move the cursor to the bottom right corner to access the Charm bar.
Select Settings.
Click the Power button and then click Reset while pressing the Shift key.
Open the Troubleshooting menu.
Go to Advanced options, then Settings, and click Restart.
Select F4 (Safe Mode) or F5 (Safe Mode with Networking).
Remove the ransomware.
Windows 7/Windows Vista/Windows XP
Restart the computer.
Immediately start tapping the F8 key once the BIOS screen loads.
In the boot menu select Safe Mode or Safe Mode with Networking using arrow keys.
Tap the Enter on the keyboard to reboot your operating system.
Remove the ransomware.
Remove Pshcrypt Ransomware
Launch RUN by tapping keys Win+R.
Enter regedit.exe into the dialog box and then click OK.
Navigate to HKLM\SOFTWARE\Microsoft\Windows NT\CurrentVersion\Winlogon.
Delete the value named LegalNoticeText.
Launch Explorer by tapping keys Win+E.
Enter %TEMP% into the bar at the top.
Delete the file named explorer.exe (it is recommended that you check the signature first).
Enter %ALLUSERSPROFILE% (or %ALLUSERSPROFILE%\Application Data) into the bar at the top.
Delete the file named DECRYPTE YOUR FILE.key.
Empty Recycle Bin.
In non-techie terms:
If your operating system was infected by Pshcrypt Ransomware, your personal files must be decrypted, and your Desktop must be locked to showcase ransom demands. The good news is that you should be able to decrypt your files by entering "H B G P" into the allocated area on the screen-locking message. The bad news is that your computer remains locked afterward. Whether you wish to remove Pshcrypt Ransomware manually, or you want to install reliable anti-malware software to have this threat erased automatically, you have to reboot your operating system (either in Safe Mode or Safe Mode with Networking). The instructions above represent manual removal, and if you have any questions about the process, feel free to add them to the comments section.