Do you know what ProtectedSurf is?
ProtectedSurf is a program that will help you to avoid various corrupted websites by displaying a warning when you click on a malicious link. Even though the program might seem extremely useful for those that seek to protect their systems from malware, the specialists of spyware-techie.com do not recommend that you trust ProtectedSurf blindly because it is classified as a potentially unwanted application. It means that it might perform different kinds of undesirable activities. For instance, it might start displaying various commercial advertisements for you. Of course, it is your choice whether to keep this potentially unwanted application on your system; however, we suggest that you get rid of ProtectedSurf if you notice anything suspicious about it or if it seems useless.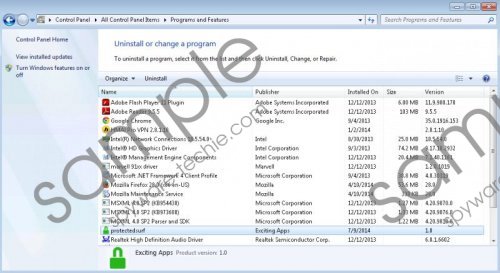 ProtectedSurf screenshot
Scroll down for full removal instructions
Even though the program will allow you to create your personal blacklist and thus avoid different kinds of unreliable websites, you should know that this application has some drawbacks as well, which is why it is not worth trusting it completely. If you read the End User License Agreement, you will soon notice that there is a possibility that you will see various commercial advertisements on your screen. What is more, this program is capable of connecting to the internet and even collecting data associated with your browsing activities.
The researchers of spyware-techie.com have revealed that ProtectedSurf tends to enter the system silently; thus, it is not surprising if you have no idea when this application has entered your system. It is also very likely such programs are distributed with a help of free applications (e.g. PDF recorders, video streamers, PC optimization tools, etc.), which is why we recommend that you download software from official websites only and install them attentively. If you want to be completely safe, you should also not forget to acquire a reliable antimalware tool and keep it enabled all the time.
ProtectedSurf is not a serious infection, so it is not obligatory to erase it from the system; however, it does not mean that you do not need to be extremely cautious. If it happens that you notice anything annoying about this software or just simply find it useless, you should definitely get rid of this application as soon as possible. Follow the instructions below the article and you will be able to do that without any problems.
How to get rid of ProtectedSurf
Windows 8
Tap the Windows key.
Start typing Control Panel.
Select it.
Click Uninstall a program.
Locate the suspicious application.
Select it.
Click the Uninstall button.
Windows 7 and Vista
Click the Start button.
Select Control Panel.
Click Uninstall a program.
Right-click on ProtectedSurf.
Click the Uninstall button to delete it.
Windows XP
Open the Start menu.
Locate Control Panel and select it.
Click Add or Remove Programs.
Click on the software that needs to be removed.
Select Remove.
In non-techie terms:
If you have already removed ProtectedSurf from the system, you should still not forget to scan the system with a reliable antimalware scanner because there is a huge possibility that your system contains other much more serious infections. These applications might act in an undesirable way and even attract other threats onto your computer. Thus, we suggest that you download a free SpyHunter scanner (see the instructions below) and just launch it.