Do you know what Protected Browsing is?
Protected Browsing is a browser add-on that is aimed at informing you about online threats. If the website you want to visit contains a threat or more, you are warned about it. The program is advertised as a free program that updates automatically; however, these are not the only features. Protected Browsing is categorized as adware because it displays third-party advertisements. This characteristic is the major reason why we urge you to remove the browser add-on from your computer. More specifically, the program is compatible with Google Chrome and Mozilla Firefox, and, if you want to browse the Internet as usual, you should not wait but remove Protected Browsing.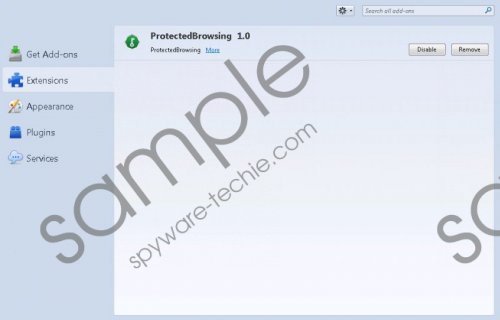 Protected Browsing screenshot
Scroll down for full removal instructions
Protected Browsing is programmed to display sponsored links, coupons, video advertisements, and other ads. It is advisable to ignore those pop-up windows and links because some of them may be associated with phishing websites. For example, it has been observed that adware programs tend to display advertisements promoting Internet browsers, updates for Java, etc. It is crucial to ignore such offers because the programs advertised are likely to be bundled with malware. You may be asked to install several unknown programs, which may have adverse consequences.
According to the developers of the program, all those advertisements delivered to you by Protected Browsing are supposed to match your browsing interests; however, it has been observed that the program displays many irrelevant ads, some of which are written in a foreign language.
However, it is not enough to ignore Protected Browsing pop-ups and video banners. The program should be removed from the computer because it is also capable of monitoring you. The program records your clicks, impressions, the addresses of the websites you visit, and some other non-personally identifiable information. This characteristic of Protected Browsing is typical of basically every advertising-supported browser add-on. Information about your browsing patterns is recorded in order to find out your preferences and enhance your experience with the program; however, if you have no intention of interacting with Protected Browsing pop-ups, simply remove the browser add-on.
Below you will find a removal guide that will help you uninstall Protected Browsing from the computer, but we recommend that you rely on a malware and spyware removal tool because Protected Browsing is distributed alongside other programs, too. If you do not remember installing Protected Browsing, it is worth scanning the computer so that you can find out whether the system is malware-free.
How to remove Protected Browsing
Windows Vista and Windows 7
Click Start.
Select Control Panel.
Click Uninstall a program and remove Protected Browsing.
Windows XP
Open the Start menu.
Click Control Panel.
Select Add or Remove Programs.
Uninstall Protected Browsing.
Windows 8
Press the Windows key to get to the Start menu.
Start typing control panel.
Click the Control Panel icon and select Uninstall a program.
Remove Protected Browsing.
In non-techie terms:
Protected Browsing is an advertising-supported browser add-on, and we recommend that you remove this program from the computer as soon as you can. As mentioned above, we recommend that you implement a reputable security program. More specifically, we recommend using SpyHunter, which can easily eliminate Protected Browsing and safeguard you against multiple threats, including browser hijackers, Trojan horses, ransomware, etc.