Do you know what Profitmaximizer.co is?
If your web browser has started to redirect you to Profitmaximizer.co, then we have news for you. It is a scam website that outright lies to potential users about what it does. Our cyber security analysts say that it is dangerous and you should remove it to keep your computer out of harm's way. It seems that this scam website is promoted via ad-supported software and once it is on your computer, ask for your email address to get instant access to Profit Maximizer, a scam program that is supposed to make you money via its sophisticated automatic trading system, but does nothing of the sort.
According to Profitmaximizer.co's promotional video, Profit Maximizer was developed by Super Stealth Hacker, a non-existent software developer. Nothing else is known about this program's or this site's origins. Profitmaximizer.co Has a Terms of Service and Privacy Policy pages but the conveniently do not work at the moment, and the same can be said about all of the other subpages. Our security experts have discovered that Profitmaximizer.co is most likely distributed via adware-type applications designed to redirect you to this website and run the video featured on it. As of yet, we do not know the names of the adware that features it and where you can get it. In any case, we would not be surprised to learn that the adware is designed to be installed on your PC in a clandestine manner. Researchers say that, at the moment, this scam site receives most visits from Spain-based users, but the site itself and its video are in English.
Allegedly, the software is set to exploit a loophole in binary options in stock trading and automatically rake in hundreds of dollars each day. its automatic trading system is a scam, and you should not believe that it is real for one second. However, the video featured on Profitmaximizer.co is narrated by a man named James Folley who tries to convince you that this is real. The video has good production quality, and testimonials from alleged users look convincing, but let us be real here — Folley wants you to fund your Profitmaximizer.co account with $250 UND and the moment you do that, you can kiss that money goodbye.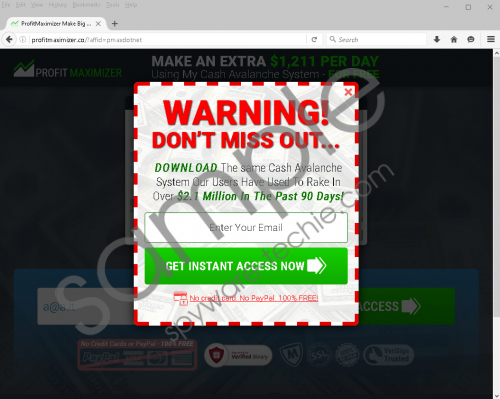 Profitmaximizer.co screenshot
Scroll down for full removal instructions
Furthermore, the video claims that there are only a few copies of Profit Maximizer left and if you miss your chance to get it, then you can enter your email address below to reserve your copy and receive it as soon as it is available. We have a problem with this because you might start receiving email spam promising great deals, discounts on products and whatnot. So please do not enter your email address and if you already have, then try unsubscribing if possible.
Times are tough and dishonest people will try to take advantage of gullible people who do not fully understand how stock trading works and scam them out of their money. The people behind this malicious site are probably making a lot of money right now because $250 USD from one user is a lot. Now imagine if they manage to scam several thousand people.
There is no question that Profitmaximizer.co is a scam website. It offers a non-excitant automatic stock trading system that is supposed to make you money for free. In the real world, such systems do not exist because if they did, then nobody would work, right? Therefore, we urge you to refrain from ordering the software promoted by this site and providing your email address. We suggest scanning your computer for ad-supported software and remove it when found. It could come as either an application or a browser extension, so make sure to check everywhere or use an antimalware tool to detect it for you.
How to remove adware via Control Panel
Windows 10
Right-click the Start menu.
Go to Programs and Features.
Identify the program and highlight it.
Click Uninstall.
Windows 8/8.1
Simultaneously press Widows+R keys.
Type Control Panel in the dialog box and click OK.
Select Uninstall a program.
Identify the application and highlight it.
Click the Uninstall button.
Windows 7 and Vista
Click Start.
Select Control Panel.
Click Uninstall a program.
Locate the software and right-click on it.
Click Uninstall.
Windows XP
Click Start menu and go to Control Panel.
Select Add or Remove Programs.
Find the undesirable application and click Remove.
Remove adware from your browser
Google Chrome
Press Alt+F.
Select More tools and click Extensions.
Locate the adware and click Remove.
Mozilla Firefox
Press Ctrl+Shift+A.
Select Extensions.
Locate the the adware and Remove it.
In non-techie terms:
Profitmaximizer.co is a site that promotes a scam program that is supposed to make you a lot of money. This program is no different than hundreds of other fraudulent applications, so do not expect to make money. Be warned that its developers want you to invent $250 USD to reap a healthy profit but that will not happen. Therefore, we recommend that you remove the adware that promotes Profitmaximizer.co to no longer see its promotion.