Do you know what Private.securesearches.net is?
There are tons of invasive and otherwise suspicious applications roaming the web nowadays. Recently, malware experts at Spyware-Techie have discovered a devious search engine, which goes by the name of Private.securesearches.net. If you ever cross paths with it while browsing the web, be sure to stay away from it at all costs because it exhibits intrusive inner workings. Like many similar programs, it can make undesirable modifications to your web browser's default settings without any notification or authorisation. As a consequence of such functionality, browsing the Internet will become a frustrating task, to put it mildly. On top of that, it could also expose your operating system to suspicious and even malicious web content. To have a better understanding of how this dubious piece of software works, read this article in its entirety. Besides such information, we also include a removal guide crafted by our researchers, which will help you delete Private.securesearches.net without encountering any major problems.
Private.securesearches.net functions in a relatively simple way. As soon as it gains access to your operating system it immediately installs a suspicious third-party extension, which happens to be its key component. That is so because the plug-in in questions initiates changes to your browser's default settings. The main alterations that it triggers are of your new tab page and homepage. Some users might not see this as a big deal. Unfortunately, the reality is quite different. Due to these seemingly irrelevant changes, your online activities will be savagely compromised. That is so because for the entire time that this search engine will be up and running on your computer, you will be forced to use a suspicious website as your homepage. Virtually the same thing happens in regards to your new tab page; each time you will open a new tab on your browser you will see a dubious third-party site instead of a blank page, which you are used to. As you can imagine, due to these modifications browsing the Internet the way you like will not be possible. Also, you should know that the search engine on a newly appointed homepage is somewhat useless since it can present unrelated, sponsored results instead of useful ones. To restore your browser's default settings, you must remove Private.securesearches.net in its entirety. To do so, make use of the removal guide that you can find below.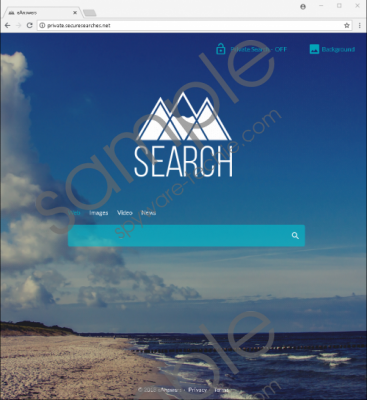 Private.securesearches.net screenshot
Scroll down for full removal instructions
While the invasive functionality of Private.securesearches.net is its most prominent feature, it is vital to note that in some instances it could prove to be dangerous. Upon further analysis, malware experts at our internal labs have noticed that using the search engine in question could lead to a system infection. As it turns out, it might present you not only with sponsored results but ones that host redirect links, which could lead you to web pages set up by cyber crook. For example, there is a chance that you could encounter fake online shops, which cyber crooks use for a simple reason – to steal your credit card data and other sensitive information. Also, you might end up on such web pages that just entering them could be enough to infect your operating system. That is so because such sites could run something known as an arbitrary code execution exploit, which is infamous for its ability to launch a remote setup procedure without requiring the user's authorization. Thus, if you already have Private.securesearches.net running on your operating system, we advise you to check your computer for other suspicious application, just to be on a safe side. It should be self-evident that you must remove Private.securesearches.net at the very same instance that it is found up and running on your computer.
Remove Private.securesearches.net as soon as possible if it is ever found active on your operating system. Make sure to pay your utmost attention to the termination procedure since a single mistake during it could result in an incomplete removal, which might have undesirable outcomes, to put it mildly. In some instances, traces of Private.securesearches.net could be used to restore it silently. Also, those leftovers might be enough for this dubious program to continue working. To be sure that the termination procedure has been successful, be sure to conduct a thorough analysis of your operating system for anything associated with Private.securesearches.net. Such analysis should be executed as soon as you are done with the instructions below.
How to remove Private.securesearches.net from your PC
Google Chrome
Start your web browser.
Click the Chrome Menu button and select Settings.
Scroll down and click Advanced.
Scroll down and select Reset.
Click the Reset option to confirm your choice.
Mozilla Firefox
Launch your web browser.
Select the Menu button and click the question mark icon at the bottom.
Select Troubleshooting Information.
Click Refresh Firefox.
Click Refresh Firefox to confirm your choice.
Internet Explorer
Open your web browser.
Click the Menu button and select Internet Options.
Select the Advanced tab and click Reset.
Check Delete personal settings and then click the Reset button.
Click Close.
In non-techie terms:
We are well aware that some users might find manual removal a bit too complicated to perform on their own. If you are one of those users, do not worry. Our malware experts have you covered. Below we provide an alternative removal guide. Follow these instructions, and you will be able to delete Private.securesearches.net automatically.