Do you know what PrinceCoupon is?
PrinceCoupon is a free browser add-on which displays coupons, special offers, and various advertisements to help online shoppers save money. The program is based on the JustPlug.it platform, which was used to create DigiSaver and other browser add-ons. PrinceCoupon also has an official website, which, unfortunately, does not contain any download button, which implies that PrinceCoupon is only available on freeware websites, which usually feature bundled installers.
PrinceCoupon may be installed on the computer without your permission when browsing some P2P file exchange websites, and you should keep the system protected against malware and spyware because the Internet is full of programs that are more dangerous than PrinceCoupon.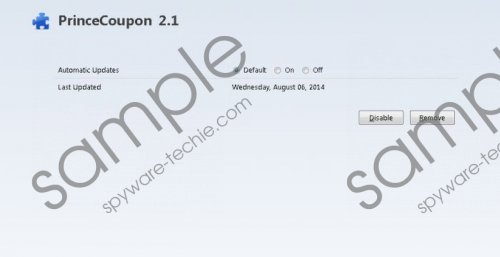 PrinceCoupon screenshot
Scroll down for full removal instructions
Similarly to other programs based on the JustPlug.It platform, PrinceCoupon is capable of randomizing its name. The program can generate different names, including PrinceeeCOuponn, PrinceCouupoan, PrinceCouponi, etc. It does not matter what name you find – this program should be remove from the computer immediately.
The reason for removing this program is very simple. PrinceCoupon displays various third-party advertisements that are not related to your search terms. Moreover, some of the advertisements may be related to phishing websites, the only goal of which is to mislead you into downloading malware or revealing your personal information. Not all PrinceCoupon pop-ups are malicious but you should be alert to the possibility of stumbling upon some questionable website.
Moreover, you should not delay the removal of PrinceCoupon because this ad-supported program is capable of monitoring your online behavior. The program records clicks, impressions, browsing history, search terms, browser language, and other non-personally identifiable information for the purpose of providing you with new advertisements. Some details about your browsers or browsing habits may be shared with third-parties, too.
The odds are that some third-parties may monitor your online behavior while you are using PrinceCoupon. Cookies, JavaScript, and other tracking techniques may be used to measure the effectiveness of certain advertisements and enhance your experience. However, if you want to put an end to PrinceCoupon ads, you should remove the adware program from the computer as soon as you can.
As regards the removal of the adware program, it has uninstaller, which, unfortunately, uninstalls the browser add-on only from Internet Explorer. In order to remove PrinceCoupon from Mozilla Firefox and Google Chrome, some manual changes are necessary.
In order to save your time and provide the computer with protection against malware and spyware, you should implement SpyHunter, which readily removes PrinceCoupon from the computer and fights off multiple Internet-based threats, including Trojan horses, fake anti-virus programs, browser hijackers, worms, and adware.
How to remove PrinceCoupon
Windows Vista and Windows 7
Open the Start menu.
Click Control Panel.
Select Uninstall a program.
Remove PrinceCoupon.
Windows 8
Move the mouse pointer to the bottom-left corner of the desktop.
Right-click and select Control Panel.
Click Uninstall a program and remove PrinceCoupon.
Windows XP
Click Start.
Select Control Panel and click the Add or Remove Programs option.
Remove PrinceCoupon.
Remove PrinceCoupon from Mozilla Firefox and Google Chrome
Mozilla Firefox
Press Ctrl+Shift+A and click Extensions.
Remove PrinceCoupon.
Google Chrome
Press Alt+F and point to Tools.
Click Extensions and remove PrinceCoupon.
In non-techie terms:
If you want to be secure on the Internet, you install a scanner after uninstalling PrinceCoupon. The below-given instructions will help you implement our recommended program, which can easily determine the security status of your PC. In case some files have to be removed, invest in the program or delete them manually.