Do you know what Primary Result is?
Primary Result is not a program that you should allow to enter your operating system. This program can collect information about users' shopping and internet browsing habits, and then it can display various kinds of online advertisements based on this information. Pop-up coupons, banners, interstitial ads, recommendations, surveys, prize giveaways, and other offers could be introduced to you whenever you browse the web. Luckily, you can eliminate all of them by removing Primary Result. Unfortunately, the removal of this ad-supported program can be more complicated than you think. In most cases, it is not enough to delete adware to ensure that your operating system is clean.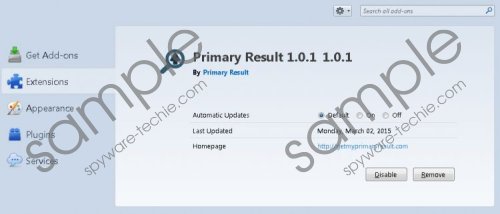 Primary Result screenshot
Scroll down for full removal instructions
If you analyze the information presented at getmyprimaryresult.com, you will learn that Primary Result uses tracking cookies to determine which kind of advertisements and offers you might be interested in. The cookies that belong to third-party affiliates could be installed as well. There isn't a lot of information regarding the undesirable software, which is why you have to consider the possibility that the parties associated with Primary Result might be unreliable. In fact, this is main motive to delete Primary Result and remove its clones (e.g., SquareTrace or Traxxen) developed by SuperWeb LLC. Keep in mind that applications created by this company are usually distributed with third-party software. Do you know if you need to delete Primary Result-associated threats from your operating system? Inexperienced users might lack the tools necessary for detecting unreliable programs, which is why malware scanners have been created. Install a reliable scanner to find which software you must delete.
If you are experienced, and you know how to delete malicious and unwanted programs from your PC, you might be able to delete Primary Result from your operating system manually. Less experienced computer users might want to install automatic malware removal software to erase Primary Result. DO not be afraid to install this software onto your personal computer, because it will also remove Primary Result-related infections and protect your operating system against the attacks of cyber criminals. If this kind of protection does not exist, sooner or later you will encounter dangerous computer infections.
Remove Primary Result
Remove from Windows XP:
Click the Start button on the Taskbar to open the user menu.
Select Control Panel and move to Add or Remove Programs.
Click the undesirable application once and select Remove.
Remove from Windows Vista and Windows 7:
Navigate to the left of the Taskbar and click the Windows button.
Open Control Panel menu and move to Uninstall a program.
Find the program you wish to delete, right-click it, and select Uninstall.
Remove from Windows 8 and Windows 8.1:
Open the Charm bar (from Metro UI screen) and click Search.
Find and open Control Panel and select Uninstall a program.
Right-click the program you have chosen to delete and click Uninstall.
In non-techie terms:
It is unlikely that computer users who research and install software carefully will have to worry about the removal of Primary Result. This ad-supported program can be installed bundled with third-party programs, which is why, in most cases, it is not enough to delete Primary Result. You can learn which programs should be removed from your Windows operating system by installing a reliable SpyHunter scanner. You can upgrade this scanner to a full-time security program that will automatically delete unreliable programs and will protect your operating system.