Do you know what PriceZilla is?
PriceZilla is an adware app that shows various annoying advertisements while you browse the web. But this is not the main reason why you should remove this app. The main reason for deleting this program is its affiliations with untrustworthy advertisers who provide their ads to the developers of PriceZilla. Because the app's developers do not check whether or not the content they sponsor is legitimate, cyber criminals and schemers flock to them. This infection could open up the floodgates for far more dangerous infections to enter your computer and severely compromise its security. That is why we recommend that you remove PriceZilla as soon as possible.
PriceZilla is compatible with Internet Explorer, Firefox, and Chrome. The program can be downloaded from its website at Getpricezilla.com. If you enter the website, you will be greeted by the slogan "the browser add-on that helps you shop better." Well, if nagging you with undesirable ads is their idea of shopping better, then the developers should all consider looking for a new line of work for themselves.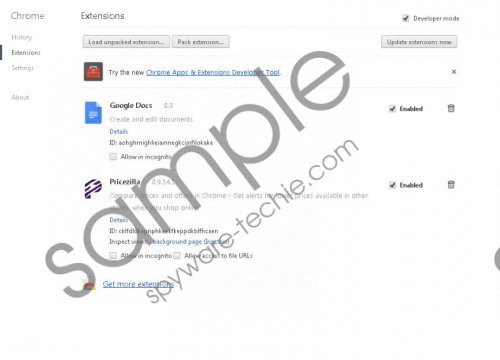 PriceZilla screenshot
Scroll down for full removal instructions
In any case, the website contains information about the supposedly innovative adware program. The developers claim that PriceZilla is a next-generation browser extension dedicated to shopping that offers you accurate suggestions for best prices and offers. The "next-generation" part of their statement is laughable, since the infection is a clone of previously released adware apps, such as Price Wagon, PriceExpert, and so on.
PriceZilla's developers claim that the app shows you the same or similar products with better prices in different shopping websites. However, this is problematic, since the program should have access to the databases of the shopping websites, which it doesn't, so the advertisements are misleadingto say the least. Therefore, this program is unreliable. But, the main reason why you should remove this infection is far more serious. The application is known to promote advertisements supplied by questionable third parties that could promote fake ads in order trick you into clicking a download link to sites containing ransomware, rogue anti-malware, and other infections.
Therefore, we recommend that you remove PriceZilla from your computer in order to prevent various schemers from using it for the purpose of infecting your system with malware and trying to extort money from you. You can remove the infection by using an anti-malware scanner such as SpyHunter, or you can try using our manual removal guide to remove PriceZilla yourself.
How to remove PriceZilla from your operating system
Windows 8/ Windows 8.1
Open the Start Screen.
Type Uninstall in the search box and then go to Settings.
In the search results, click Uninstall a program.
Find PriceZilla.
Click Uninstall.
Windows 7/Windows Vista
Click Start.
Select Control Panel.
Click Uninstall a program.
Find PriceZilla.
Click Uninstall.
Windows XP
Open the Start menu.
Click Control Panel.
Select Add or Remove Programs.
Find PriceZilla.
Click Uninstall.
Remove the PriceZilla browser extension
Microsoft Internet Explorer
Press Alt+X.
Select Manage Add-ons.
Select Toolbars and Extensions.
Click Remove PriceZilla and click Close.
Mozilla Firefox
Press Ctrl+Shift+A.
Choose Extensions.
Click Remove PriceZilla.
Google Chrome
Press Alt+F.
Click More tools.
Click Extensions.
Remove PriceZilla.
In non-techie terms:
PriceZilla is an adware application that displays commercial advertisements. It is an annoying app that you should remove without hesitation. Nevertheless, PriceZilla is a program that shows ads supplied by unknown third parties. This is extremely problematic, since the lack of transparency suggests that this app may promote fake ads that might contain links to malicious websites that could infect your system with malware.