Do you know what PriceTurtle is?
PriceTurtle is an advertising-supported program that can reach target systems bundled with freeware or shareware programs offered on unreliable software distribution sites. You should hurry to remove this app from your PC if you want to wipe out all the annoying pop-ups and banners showing up on your web browser. Also, as with other adware apps, what makes PriceTurtle a security risk is that it might display advertisements which, when accessed, could take you straight to unsafe sites containing malware. As the security of your computer should always be your number one priority, delete PriceTurtle to guarantee that no Internet-based infection creeps into your system.
PriceTurtle is identical to such other adware apps as PriceExpert and Dealicious, which are promoted as programs designed to assist with online shopping by filtering the web and serving the best offers found. As the official site priceturtle.com does not provide the opportunity to acquire this app directly, it is most probable that computer users will install it accidentally via software bundles found on questionable file sharing sites. This is a common way various unwanted or potentially dangerous applications slither onto target computers, taking advantage of the lack of vigilance or awareness less experienced computer users tend to exhibit. If you are not attentive enough, third-party installers might deploy to your system more then one highly questionable program, which you will need to remove as soon as possible. So, do not delay: Open up your Control Panel, or run a full system scan with a legitimate antimalware scanner to terminate the potential threats immediately.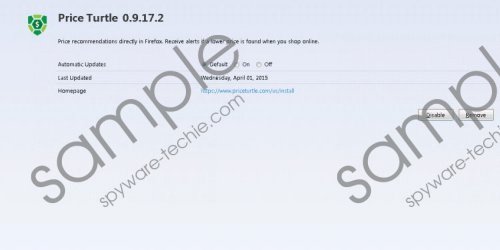 PriceTurtle screenshot
Scroll down for full removal instructions
All in all, you should not ignore the presence of PriceTurtle on your system, and thus remove it right this moment. Though it boasts of being a top-quality app, you will rarely make use of all the content it crams onto your screen. Even when it comes to specific items, this adware app seems to be useful only when you look for the most popular products and services. Also, bear in mind that the promoted coupon deals and discount offers might carry links that will transfer you to sites set up to by malicious entities, to, for example, swindle money out of totally clueless computer users.
Refusing to identify PriceTurtle as a dangerous app might result in malware infection, thereby jeopardizing the security of your computer and leaving it exposed to cyber criminals. However, we are sure you are already convinced that it is best to remove this adware app from your machine. Deleting it from the program list should also terminate all the browser add-ons manifested in Google Chrome, Mozilla Firefox, and Internet Explorer. To complete this process of securing your system, equip your PC with a trusted antimalware program which will scan your machine continuously, closing the backdoor where risks might otherwise sneak through.
How to remove PriceTurtle
Windows XP
Click the Start button to open Control Panel.
Go to Add or Remove Programs.
Select PriceTurtle and click Remove.
Windows 7 and Vista
Open the Start menu and select Control Panel.
Go to Uninstall a program.
Click on PriceTurtle and choose Uninstall.
Windows 8 and 8.1
Tap the Windows key + R to type in "control panel".
Click Uninstall a program.
Select the unwanted application and click the Uninstall button.
In non-techie terms:
PriceTurtle is an adware application which might pose risk to your system by promoting unreliable third-party links on your web browser. If you do not want to inadvertently infect your PC with malware while clicking on the ads promoted by PriceTurtle, remove this application right now. Complete the removal by using a trustworthy antimalware tool to run a full system scan.