Do you know what PriceMinus is?
PriceMinus has been classified as adware due to the fact that the application is malicious in nature. You ought to remove the infection, because the ads promoted by it are largely supplied by shady advertisers constantly looking for ways to make a quick buck. Some of them resort to promoting fake ads featuring malicious applications that have been developed by cyber criminals. On top of that, the application can gather information about you without your knowledge or consent. Therefore, our researchers advise users to be careful when downloading freeware bundles, because they might be packaged with malware such as PriceMinus.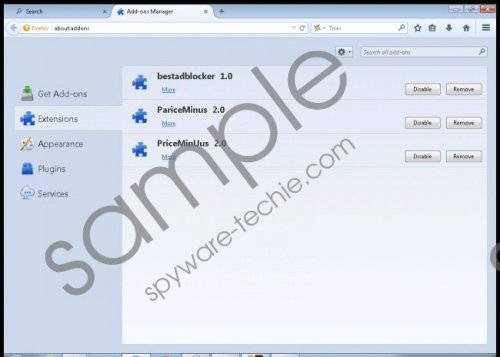 PriceMinus screenshot
Scroll down for full removal instructions
PriceMinus is very similar to adware applications such as SpaceOffers, KeepersExt,and BrowserEnhance. All of these programs have been developed using the JustPlugIt engine, which is a very popular platform for creating simple applications that display pop-ups, coupons, and other forms of online advertisements. Note that you should remove the aforementioned infections as well. Research has shown that PriceMinus is distributed on torrent websites, as well as websites that distribute pirated content. The infection is usually bundled with InstallRex installers, but may also be found bundled with the more rare Amonetize and Vittalia installers. In any case, you might infect your computer with this malware if you click a fake download button on piracy websites. Therefore, we recommend that you stay clear of these kinds of websites.
However, if you get your computer infected with PriceMinus, expect your browser to get flooded with commercial advertisements, deals, and offers that will keep you frustrated during your browsing session. But annoyance is not the worst that this infection can offer, because the program is known to be a vehicle for distributing other malicious applications. Do not be alarmed though, because the program does not download the malware automatically. However, you yourself might infect your PC with spyware, rogue applications, and other malware if you accidentally, or intentionally for that matter, click a fake ad. Note that such infections will be very difficult to remove, and you will need an anti-malware scanner to get rid of them.
We hope that this article has been useful and has provided you with enough information to encourage you to remove this infection. You can remove PriceMinus by following our manual removal guide using an anti-malware scanner. Our analysts recommend using SpyHunter, as it has proven itself to be a powerful utility for dealing with malware no matter how great or small.
Remove PriceMinus from the computer
Windows 8 and 8.1
Open the Sidebar on the right bottom side of the screen.
Click Settings and open the Control Panel.
Click Programs and Features.
Find PriceMinus.
Right-click on it and click Uninstall.
Windows Vista and 7
Open the Start menu.
Click Control Panel.
Select Uninstall a program.
Find PriceMinus.
Right-click on it and click Uninstall.
Windows XP
Open the Start menu.
Open the Control Panel.
Click Add or Remove Programs.
Find PriceMinus and click Uninstall.
In non-techie terms:
PriceMinus is an adware program that is bound to cause you a lot of trouble, because the advertisements promoted by it are annoying and potentially dangerous. The infection is apt to promote fake ads that feature malware download links. Spyware, rogue applications, and other malware might find their way onto your computer if you accidentally click an ad shown by PriceMinus. So we encourage you to remove it as soon as possible.