Do you know what PriceFountain is?
If you click the download button on pricefountain.com, you will not acquire the installer of PriceFountain. Instead, you will download a PNG file representing the interface of the web page itself. If you click the download button displayed in the 'About' section, you will be redirected to a page indicating that the 'File does not exist'. Of course, this does not mean that the program is inactive, because if it was not, you would not research its removal. Do you know how to delete PriceFountain? We can explain this to you; however, you firstly need to learn how the program works.
As soon as PriceFountain is installed onto the computer, it collects information about your web browsing habits. The application runs web cookies which are set to discover information regarding your browsing history, your IP address, and other information. You can remove these cookies from the browsers. Even if PriceFountain does not collect private, personally identifiable information, we still think that you should delete it, primarily because of the disturbing adverts potentially flooding your screen. While some computer users identify PriceFountain just because of the running processes (e.g., pricefountain.exe*32), others are likely to detect it due to the flooding ads. Even though some of the offers linked to the program may be harmless, others could be corrupted and even misleading. Do not click on any pop-up or banner ads to stay on the safe side, and rush to remove adware.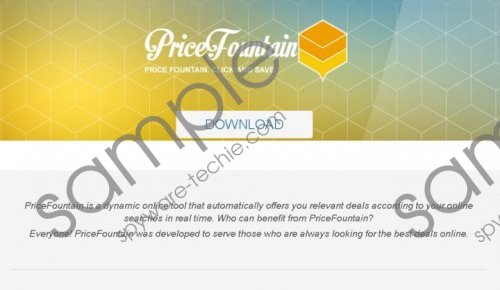 PriceFountain screenshot
Scroll down for full removal instructions
Whether your operating system is infected with PriceFountain or any of the clone applications (e.g., PennyBee or Walletbee), you have to delete adware without any mercy. Use the guides below to uninstall the disturbing application from the PC, and then install an automatic malware remover to eliminate any remaining threats. You certainly should not trust the uninstall wizard represented via pricefountain.com. Even though at the moment the installer of this program is not working, you should not acquire it even if it is active. You have to remove adware, not install software associated to it.
Delete PriceFountain
Delete from Windows XP:
Navigate to the Taskbar and click the Start button.
Select Control Panel and then double-click Add or Remove Programs.
Remove the undesirable application.
Delete from Windows Vista/Windows 7:
Navigate to the Taskbar and click the Windows button.
Select Control Panel and then click Uninstall a program.
Right-click the program you want to remove and choose Uninstall.
Delete from Windows 8:
Right-click on the Metro UI menu screen select All apps.
Open the Control Panel and in the menu click Uninstall a program.
Right-click the program you want to remove and choose Uninstall.
In non-techie terms:
PriceFountain is an adware we recommend having removed from the operating system. The disturbing application is not installed as a browser extension; however, it can be used to track information about your activity. This may be intrusive and disruptive, which is why we recommend PriceFountain removal. Use the instructions below, or install automatic malware removal software. The latter option is especially important to those dealing with other third-party applications and those worried about further security.