Do you know what PriceChomper is?
PriceChomper is an upcoming adware-type application that is due to be released quite soon. Even before the release of this application, Google Chrome has already blocked it, so that it could not be installed. Unfortunately, Microsoft Internet Explorer and Mozilla Firefox have not done so. That means that you are not protected from this malicious application, and you will have to remove it manually. But, if you have an antimalware scanner that is updated frequently and can detect PriceChomper, then you should be in the clear. However, if you do not have such a program, then we suggest that you get our featured antimalware scanner, called SpyHunter.
PriceChomper should be distributed on its promotional website at Pricechomper.com. However, it might also be bundled with other malicious software and distributed via freeware sharing websites. The developer of this infection is not known, which only reinforces our suspicions that the application is unreliable and should be removed. The application is likely just another scam that will get your computer infected with more adware which will only benefit the advertisers, who live off unwary users tempted by commercial advertisements. We know all this because PriceChomper is identical to price-horse and price-hipo.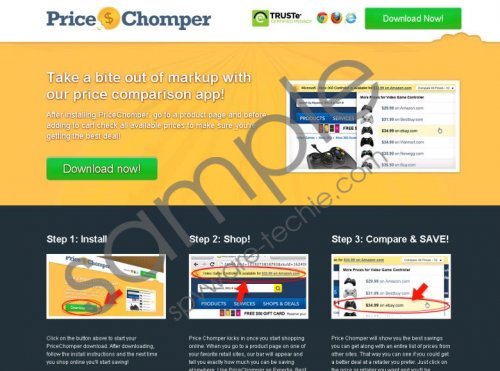 PriceChomper screenshot
Scroll down for full removal instructions
Once installed, the application should start displaying annoying commercial advertisements in the form of coupons, pop-ups, and banners. It is, however, advertised as a program that will supposedly help you with online shopping by providing price comparisons from various shopping websites. It is claimed that PriceChomper is associated with major retailers, such as neweg.com, Walmart, GameStop, and a few others. But we know that to be false. There is no way a low-grade adware application like PriceChomper will be granted access to those companies' websites and databases to make price comparisons. We assume that you might be subjected to third-party advertisements that might redirect you to unreliable, possibly fictitious, online shopping websites. Furthermore, the application can be used to track your browsing history and search queries in order to present certain advertisements, which is unacceptable, because the information might be shared with third parties.
We do not see any prospect of this application being legitimate, given that it is a clone of previously released adware applications that have been developed by this mysterious developer. Chances are that you will be presented with unreliable third-party advertisements that will redirect you to fictitious online shopping websites. In addition, it might collect information about you. Therefore, we recommend that you remove PriceChomper using the instructions shown below, provided that your computer becomes infected with this adware.
Remove PriceChomper from the OS
Windows 8/Windows 8.1
Click the bottom left Windows logo to open the Start Screen.
Type Uninstall in the search box and then go to Settings.
Click Uninstall a program in the search results.
Locate PriceChomper.
Click Uninstall.
Windows 7/Windows Vista
Click Start located at the bottom left side of the screen.
Select Control Panel and click Uninstall a program.
Locate PriceChomper and click Uninstall.
Windows XP
Open the Start menu located at the bottom left side of the screen.
Click Control Panel and select Add or Remove Programs.
Locate PriceChomper and click Remove.
In non-techie terms:
PriceChomper is an adware application that is not yet released, but, based on the information that we have, it is a clone of previously released adware applications that show unreliable third-party advertisements. The program is supposed to show price comparisons between various online retailers, but we know this to be false, since you might actually get redirected to fictitious online shopping websites. So, we recommend that you remove PriceChomper if your PC becomes infected with it.