Do you know what Priceblink is?
Priceblink is a browser add-on which can be bundled with freeware or shareware or even downloaded from its official website priceblink.com. This application is compatible with Internet Explorer, Google Chrome, Mozilla Firefox and Safari. If you have downloaded some software recently and now find that Priceblink displays notifications claiming that some coupons are available, do not worry. It is not a virus, but we recommend removing it from the PC.
The application is said to be able to display the lowest prices which you can find on the websites of other online retailers. The stores whose offers you can use are Banana Republic, Best Buy, Dell Home, Gap, Target, Walmart and many others. Just like other price comparison applications such as Coupon Pigeon or Deal Vault, which are published by 215 app, Priceblink collects the information provided by the browsers.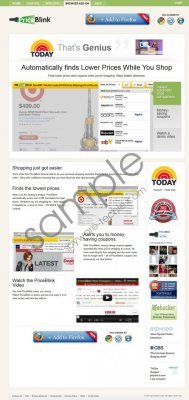 Priceblink screenshot
Scroll down for full removal instructions
Additionally, it is possible that instead of the website which you intended to access when clicking the offer you will be directed to some other website. Here is how the developers of the application argue that they are not responsible for the consequences of your actions:
PriceBlink is not responsible for the content or privacy practices of those sites, and our Privacy Policy does not apply to information collected by those sites. Before using third party sites, you should read and understand those sites' privacy policies to ensure you agree to their terms.
It is also possible to turn notifications off but that does not mean that you will be physically able to disable the notifications of all the affiliated websites. If you want to disable the offers because you do not like the idea that it is present on your browser, simply remove Priceblink from the PC.
The removal is an easy procedure if you know how to do it. Below you will find our step-by-step instructions which will help you uninstall the unwanted application. If you want everything to be easier, install SpyHunter. This spyware removal software will remove Priceblink in no time and safeguard the PC against other computer threats.
How to remove Priceblink?
Windows Vista and Windows 7
Open the Start menu.
Click Control Panel.
Select Uninstall a program.
Double-click Priceblink.
Windows XP
Open the Start menu and click Control Panel.
Select Add or Remove Programs.
Select the program you want to remove.
Click the Remove button.
Windows 8
Press and hold down the Windows key and press R.
Type control panel.
Click OK.
Select Uninstall a program.
Double-click Priceblink.
If after the removal your browsers do not contain any notifications, it does not mean that the system is clean and protected against computer threats. In order to make sure that you can use the PC safely, click the button below and download a free scanner which will provide you with the information about the unwanted and malicious files that have to be removed from the machine.
In non-techie terms:
Priceblink is a browser add-on which you should remove from the PC if you do not want to receive notifications offering to see and use various coupons related to the item you are looking for. In order to delete Priceblink, follow the instructions provided or implement anti-spyware software.
Aliases: Price blink.