Do you know what Price Wagon is?
Price Wagon is an annoying adware app dedicated to making your browsing experience just a bit more unpleasant by irritating you with unasked for commercial advertisements. Regardless, whether you installed this application intentionally or not, we strongly recommend that you remove this application. It might come as a surprise, but Price Wagon is actually considered an infection. And rightfully so, because the functions it performs are nothing short of malicious. The adware displays third-party advertisements that can only be regarded as unreliable, since the developers are obliged to sponsor almost any advertisers as long as they pay them. Therefore, we strongly recommend that you remove it.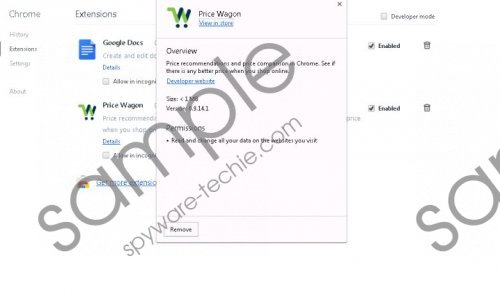 Price Wagon screenshot
Scroll down for full removal instructions
Price Wagon's developers boast that the program is next-generation browser add-on that offers accurate suggestions for best offers and prices. Unless this program has access to the databases of all online shopping websites it claims to be affiliated, then all its claims are false, and it simply displays random third-party content. It's pretty common for adware developers to boast to have created the next-gen shopping application, but that is mostly hot air as most adware apps are based on the same architecture. Therefore, adware is restricted from innovating. Not that we really want to see any developments in this field any way, since we advocate users to remove infections such as Price Wagon.
The main problem with this application, which should compel users to remove Price Wagon, is its ability to gather information about the user whose computer was infected. Price Wagon's developers claim that they don't collect any personal information. They say that the only gather information such as URL's of visited websites, characteristics and names of various products that the user might view, product-related keywords and other product-related information, the URL's of visited websites that the program has suggested, and lastly other anonymous technical information. The portion about "other anonymous technical information" is very troubling as there is no telling what they are actually collecting. For all we know, they might be recording keystrokes. At any rate, you should remove the app as it is clearly unreliable.
Price Wagon is a problematic piece of programming. It is advertised as a legitimate and privacy-conscious advertising platform that claims to help online shoppers stay on top of their game by providing them the best prices and offers. However, these exaggerated claims are groundless, since the app does not have the authority or capacity to analyze the information of online shopping websites. Furthermore, Price Wagon collects information about the user, which is an obvious violation of privacy right. So, don't hesitate and remove Price Wagonfrom your PC immediately.
How to remove Price Wagon from your operating system
Windows 8/ Windows 8.1
Open the Start Screen.
Type Uninstall in the search box and then go to Settings.
In the search results, click Uninstall a program.
Find Price Wagon.
Click Uninstall.
Windows 7/Windows Vista
Click Start.
Select Control Panel.
Click Uninstall a program.
Find Price Wagon.
Click Uninstall.
Windows XP
Open the Start menu.
Click Control Panel.
Select Add or Remove Programs.
Find Price Wagon.
Click Uninstall.
Remove the Price Wagon browser extension
Microsoft Internet Explorer
Press Alt+X.
Select Manage Add-ons.
Select Toolbars and Extensions.
Click Remove Price Wagon and click Close.
Mozilla Firefox
Press Ctrl+Shift+A.
Choose Extensions.
Click Remove Price Wagon.
Google Chrome
Press Alt+F.
Select More tools.
Click Extensions.
Find Price Wagon.
Click the trashcan symbol to remove it.
In non-techie-terms:
Price Wagon is an adware app that displays various advertisements. Its claims to be the next generation online shopping helper, but what it really does is displays third-party content not directly linked with legitimate retailers. Furthermore, the application collects information about the users browsing habits, yet there are indications that the program could be collecting personally identifiable information. Therefore, we encourage you to remove this infection.