Do you know what Price Master is?
Price Master is presented as a browser extension that will help you save money by showing price comparisons and providing discount coupons for various products. But you should remove this application, because it is next to useless. It does not provide relevant price comparisons and its discount coupons outright do not work. This adware was designed specifically for Bestbuy.com and will show coupons only on this website. However, Price Master is not associated with this retailer, so this program's developers do not get money from Best Buy. This article contains the most relevant information about this program that is presented in simple terms, so if you have this program and you are looking for ways to get rid of it, please consult the instructions provided at the bottom.
Let us begin our analysis by getting familiar with this program's origins. Price Master has many similar programs that have come from the same developer. However, the one that stands out is PriceHorse. This program is identical to Price Master in terms of functionality. The main difference is that PriceHorse displays coupons on Dell.com. However, this recently released adware is a step ahead of its predecessors, because now it can be downloaded from the Chrome Web Store. Nevertheless, this does not necessarily mean that this program is completely safe. It may not promote malicious content, but its ads are still annoying as they take up a significant amount of space on your browser's window.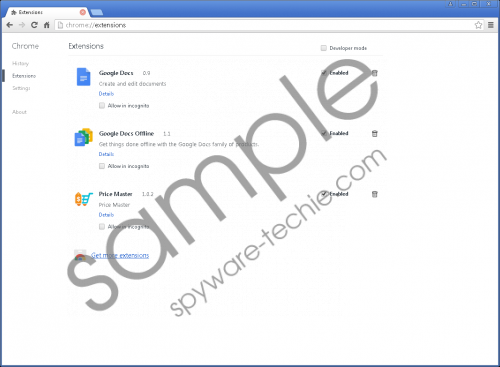 Price Master screenshot
Scroll down for full removal instructions
Our malware researchers have analyzed this adware program and they found several interesting things about it. Price Master adds sort of a sidebar to the right side of the browser window. This sidebar contains discount coupons for various products featured on Bestbuy.com. However, if you click "Get coupon" you will be redirected to Fwdaff.com and immediately back to Bestbuy.com. You will not even see the Fwdaff.com, which leads us to believe that Price Master's main purpose is to redirect web traffic to this website. Of course, you will not receive any price discounts. The promised price comparison function is also non-existent. Nevertheless, there is one more issue that we want to make you aware of.
Our researchers have found that Price Master's website is set to gather information about you. Indeed, its developers will collect personal information about you if you voluntarily provide it to them. If you interact with the website, you may be asked to provide certain details, such as name, email address, mailing address, phone number, credit card information, and social security number. Furthermore, this adware application will automatically collect non-personally identifiable information, such as IP addresses, the URL that the user was referred from to Price Master, as well as browsing history. Clearly, there is nothing special about this program. We do not think that it is malicious, but it is definitely not good either.
Therefore, we recommend that you remove Price Master from your computer as soon as the opportunity arises. If you do not know how to get rid of it, then you should refer to the removal instructions provided below. You should not allow program's such as Price Master to obstruct your browsing experience with its intrusive ads, so delete is and enjoy ad-free browsing.
How to get rid of Price Master
Microsoft Internet Explorer
Tap Alt+T.
Select Manage add-ons and click Toolbars and Extensions.
Locate the adware and click Remove.
Close.
Google Chrome
Simultaneously press Alt+F.
Open More tools.
Select Extensions.
Click Remove the unwanted extension.
Mozilla Firefox
Tap Ctrl+Shift+A.
Select Extensions.
Locate the unreliable extension.
Click Remove.
In non-techie terms:
Price Master is a typical adware program that was designed to display discount coupons on Bestbuy.com. The only problem is that the coupons are just for show and they actually do not provide any discounts. Price Master is just an annoying adware program that also collects non-personal information about you. So this program is useless and above all unreliable. Therefore, you should remove it.