Do you know what PPass is?
PPass is a dubious piece of software, which cannot be considered trustworthy. Thus, malware experts at Spyware-Techie.com advise you to avoid it at all times. You must also be aware of the fact that after an in-depth analysis, this application has been classified as one more potentially unwanted program. There are a few reasons for such categorization. The primary one is its dubious functionality, which could even negatively affect your web browsing experiences. Another reason is its suspicious distribution, which could even prove to be potentially dangerous. To learn more about the intricate inner workings of this potentially unwanted program and where it comes from, be sure to read the rest of your detailed report. We also provide a few virtual security tips, which will allow you to maintain a fully secure operating system. Lastly, but most importantly, we present a comprehensive removal guide, which you should use to delete PPass without encountering any major problems.
PPass starts acting as soon as it gains full access to your operating system. During the initial analysis of this potentially unwanted program, our research team has discovered that it could act in a silent and sneaky manner. As it turns out, this suspicious application starts collecting information such as your operating system's version, service pack's version, computer's name. What is concerning about all of this is the fact that there is no tangible information about how all this data will be handled. It could even be shared with suspicious third-parties, which might include cyber crooks. Furthermore, you should know that this potentially unwanted program might use your computer as a proxy server, without any notification. Additionally, you must be informed that this suspicious application might be able to establish a lasting connectivity with a suspicious adware server. Due to that, your web browser might get filled with a vast amount of third-party ads and pop-ups. As you can imagine, browsing the web will become a much more annoying and frustrating experience as you might be constantly interupted. It should be quite obvious that such functionality of this potentially unwanted program should not be tolerated. To delete PPass in its entirety, be sure to use the detailed instructions below. Keep in mind that if you fail to do so, the invasive functionality of this potentially unwanted program will continue to bother you on a daily basis.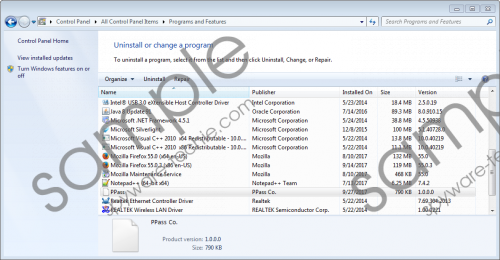 PPass screenshot
Scroll down for full removal instructions
If you want to have a secure and clean operating system at all times, you must improve your virtual security. That can be done by taking simple, yet effective precautionary steps. First, you should start practicing safe browsing habits. We highly advise you to avoid unauthorized download sites and obtain all of your programs from their official developers' sites only. That is important because illegitimate distribution web pages often host bundled installers, which malware developers often use to spread their suspicious programs. Also, it is important to note that in quite a few instances cyber crooks tend to use bogus marketing tactics to lure unsuspecting Internet users into downloading their devious applications without knowing how they work. Thus, we highly advise you to always learn as much as possible about any program before downloading and installing it. Furthermore, be sure to pay your utmost attention to every single step during any installation procedure since you could be provided with an opportunity to cancel the installation of some undesirable program. Finally, to ensure your system's full security, you must have a professional antimalware tool because it is designed to identify and terminate any virtual security threat in an automatic manner. These seemingly simple preventative steps will allow you to have a clean and secure operating system at all times.
To remove PPass thoroughly, make sure to use the instructions that we present below. We also urge you to recheck your entire operating system with anything associated with this potentially unwanted program because its leftovers might act deviously. For example, leftovers of PPass could be just enough for this suspicious application top continue its questionable functionality. Also, there is a chance that this potentially unwanted program might be restored with the help of just a few leftovers. Thus, by executing such analysis of your entire operating system, you will be sure that the termination has been successful.
How to remove PPass from your PC
Windows XP
Open your File Explorer.
Navigate to C:\ Documents and Settings \<your username>\Application Data \Roaming.
Right-click a folder called PPass and select the Delete option.
Close your File Explorer.
Right-click your Recycle Bin and select the Empty Recycle Bin option.
Windows Vista/7/8/8.1/10
Open your File Explorer.
Navigate to C:\Users\<your username>\AppData\Local.
Right-click a folder called PPass and select the Delete option.
Close your File Explorer.
Right-click your Recycle Bin and select the Empty Recycle Bin option.
In non-techie terms:
Our research team is well aware of the fact that the manual removal might be a bit too complex for some users. If you happen to be one of those users, do not worry. Below you will find an alternative removal guide that will help you delete PPass in a fully automated manner.