Do you know what potentially unwanted program Internet is?
Potentially unwanted program Internet is a web browser that often enters systems without permission. Our specialists were not able to find its official website, but many users still detect it on their systems. Of course, they might download this browser from a third-party web page, too, but this does not change the fact that it is known to be a potentially unwanted program. PUPs are not harmful, but they might still be unwanted. If you do not want to keep this browser, you can delete potentially unwanted program Internet rather easily. All the information regarding the removal of this program will be provided for you in this article, so make sure that you read through.
Users wonder why this browser is called a potentially unwanted program when it looks perfectly decent. The answer is simple: It can enter systems without permission, it might make itself a default browser without permission, and it can start with Windows. On top of that, researchers have noticed that you will see its homepage (intent.clara-labs.com) every time you open the browser. You should use the search box placed on it very carefully because you might be provided with sponsored links and ads, placed among the search results. Of course, there is a really slight possibility that these links and third-party ads might redirect you to untrustworthy web pages. We do not know what you will find on them, which means that there is a possibility to encounter malicious software. Even though potentially unwanted programs rarely cause security-related problems, there is still a small possibility of encountering untrustworthy software if you keep potentially unwanted program Internet installed.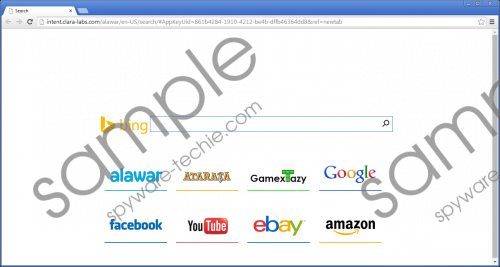 Potentially unwanted program Internet screenshot
Scroll down for full removal instructions
There is a very huge possibility that a bunch of other untrustworthy applications have slithered onto your computer together with potentially unwanted program Internet. You might also have downloaded a software package yourself. Either way, it is very important that you detect and remove suspicious programs from the system. First of all, you should check Control Panel and the Add-ons Manager. If you do not find strange programs there, you should scan your system with a diagnostic scanner. It will find malware for you and then you will be able to decide whether to erase them manually or automatically.
Potentially unwanted program Internet itself can be deleted via Control Panel. If you do not know how to do that, you can use our manual removal instructions (see below). Unfortunately, they will not help you to erase other unwanted programs, if there are any. Therefore, our specialists recommend that you also scan your system with an automatic tool. We recommend using SpyHunter because we are sure that it will detect and erase undesirable software in the blink of an eye.
Delete Potentially unwanted program Internet
Windows 8/Windows 8.1
Tap the Windows key to access the Metro UI menu.
Start typing Control Panel.
Select Uninstall a program.
Right-click on the suspicious software.
Click Uninstall.
Windows 10
Enter Control Panel in the search box placed on the Taskbar.
Tap Enter.
Select Uninstall a program.
Right-click on the program that you wish to erase.
Click Uninstall.
Windows 7 and Vista
Tap the Windows key.
Select Control Panel from the menu.
Click Uninstall a program.
Right-click on the application.
Click Uninstall.
Windows XP
Open the Start menu.
Select Control Panel and click Uninstall a program.
Right-click on the suspicious application.
Click Uninstall.
In non-techie terms:
In order to protect your system from other suspicious programs, you should definitely install a security tool. In addition, it is also advisable not to download programs from third-party websites ever again. Finally, it would be really wise if you find out whether the application is really trustworthy before you install it.