Do you know what Popdown Steps is?
Popdown Steps is known to be an advertising-supported application because it shows advertisements and does not do anything else. Of course, users do not know that at first. In fact, the majority of them believe that Popdown Steps is very useful. We cannot blame those users because Popdown Steps claims on its official website that it can make sure that pop-ups no longer interfere with your Internet surfing activities. As we understand, it promises to block them. On top of that, it says that it is user-friendly, light, and fast, and it supports all kinds of browsers including Internet Explorer, Google Chrome, and Mozilla Firefox. It means that you will see advertisements on your screen no matter which browser you use. You can stop all these ads from appearing by erasing Popdown Steps. You will be able to do that rather easily after reading through this article.
This adware program belongs to the Lyrics family, so it is not surprising at all that it shows commercials advertisements. These ads will stop appearing on your screen only if you erase Popdown Steps from the system. In the meantime, make sure that you do not click on advertisements because you might be redirected to the websites which are untrustworthy. It is really dangerous to surf such websites because malicious software might enter your system after you click on some kind of link placed on such a web page. Of course, you might also download malicious software instead of a useful file from such a website too. As you can see, it is really dangerous to keep Popdown Steps installed because its ads might indirectly cause harm to your system. Unfortunately, you will not only have to take care of Popdown Steps, but also delete other undesirable programs that might have entered your system with it. Actually, it is very likely that this has happened because it is impossible to download Popdown Steps from its official website, but users still detect this program on their systems.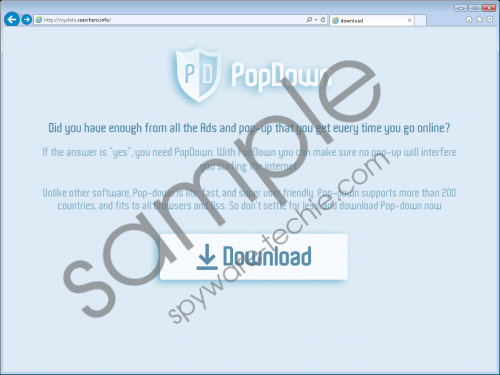 Popdown Steps screenshot
Scroll down for full removal instructions
The Lyrics family is comprised of many members. In most cases, they are known to be adware. Therefore, we believe that there is a possibility that you will encounter undesirable software in the future too. This might especially happen if your PC is unprotected. In other words, you do not have a security tool installed on the system. We do not think that you want to encounter malicious software again, so we suggest installing a security application on the system. You should start surfing the web more carefully too.
We are sure that you do not want to keep untrustworthy programs installed, especially when they might cause harm to the system. Not all the adware programs can be easily removed from the system, but, luckily, it is possible to erase Popdown Steps rather quickly. Specialists have noticed that you simply have to delete this program via Control Panel like any other program. If you have not tried doing that yet, you should use our instructions (see below). They will help you to delete this program.
Delete Popdown Steps
Windows XP
Click the Start button and select Control Panel.
Click Add or Remove Programs.
Select the program and click Remove.
Windows 7 and Vista
Tap the Windows key.
Select Control Panel from the menu.
Click Uninstall a program.
Right-click on Popdown Steps.
Click Uninstall.
Windows 8/Windows 8.1/Windows 10
Tap the Windows key + R simultaneously.
Enter Control Panel.
Tap Enter.
Click Uninstall a program.
Right-click on the adware program.
Uninstall it.
In non-techie terms:
If you have removed Popdown Steps manually, do not forget to take care of other undesirable programs that might have entered your system together with this adware. The easiest way to eliminate them is to scan the system with an antimalware scanner, such as SpyHunter.