Do you know what Ponce.lorena@aol.com Ransomware is?
It doesn't take a genius to understand that Ponce.lorena@aol.com Ransomware is a malicious infection. It is also a ransomware program, so it puts it into the basket of the most prominent computer infections since several years ago. The problem with ransomware is that we can hardly reverse the effect of the infection, and it is often that users have to start building their file library anew. Nevertheless, you should still focus on removing Ponce.lorena@aol.com Ransomware from your computer, so that you could open a new page.
One of the things we have to remember here is that it is a lot more effective to prevent a ransomware program from entering your system than actually battling it once it is inside. To avoid the likes of Ponce.lorena@aol.com Ransomware, you have to learn how these programs get distributed. Although they are stealthy infections, they cannot enter the target system without the user's authorization. In other words, the users are tricked into opening files that then install Ponce.lorena@aol.com Ransomware and other similar malware on the target computer. So, how can we avoid opening these files? Are there any signs that point out the infection?
To tell you the truth, most of the ransomware infections travel via spam attachments. So, users should know better than to open spam emails in the first place. However, if users deal with loads of emails every single day, they might overlook the fact that some email looks odd. For instance, if you open tons of online shopping notifications regularly, one fraudulent email might sneak into your list, and you would just click the attached file without any second thought. Hence, it requires healthy habits that would stop us from opening unreliable files. And if the files in question still look somewhat decent, you can scan them with a security tool to be sure.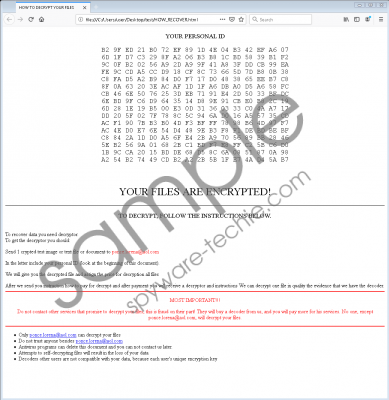 Ponce.lorena@aol.com Ransomware screenshot
Scroll down for full removal instructions
So, let's say Ponce.lorena@aol.com Ransomware is already in the system, what does it do? Well, it probably goes without saying that this program encrypts your files. Also, our research team says that this program is another version of the Globe Imposter Ransomware infection. Hence, the behavioral patterns exhibited by this program should be really similar to all the other versions of this program. What's more, since there are several versions of the same program, it could be possible that a public decryption tool is available or will be made available for this infection, but let's not keep our hopes too high.
In fact, restoring your files from a back-up is the best option, really. Provided you have that back-up, of course. Now, what is a file back-up? A file back-up refers to copies of your files saved someplace else. It could be an external hard drive, a cloud drive, or some other storage. That also means that you should regularly save copies of your files, so you could restore them in the case of a malware infection or hardware malfunction. Unfortunately, not every user does that, but now even operating systems urge users to back up their files because the ransom epidemic is that wide-spread.
When Ponce.lorena@aol.com Ransomware encrypts the target files, it clearly leaves the ransom note, which is something that every ransomware infection does. This is an extract from the same ransom note:
Your files are encrypted!
To get the decryptor you should:

Send 1 crypted test image or text file or document to ponce.lorena@aol.com
<…>
We will give you the decrypted file and assign the price for decryption all files
Sounds nice, doesn't it? "We will <…> assign the price." It clearly means that the price for the decryption tool is not set, and these criminals could ask for astronomical amounts. Let's not consider this any further. Simply remove Ponce.lorena@aol.com Ransomware following the manual removal instructions below, and then let's look at our options when it comes to file recovery.
Perhaps you need to address a professional to find out what other options you have? While you are at it, you should also acquire a reliable antispyware tool that would protect your system from various other threats. You have to combine a reliable tool with safe web-browsing habits to avoid dangerous intruders in the future.
How to Remove Ponce.lorena@aol.com Ransomware
Delete the most recently downloaded files.
Press Win+R and type %LocalAppData%. Click OK.
Remove the ransomware EXE file.
Press Win+R again and type regedit. Click OK.
Open HKEY_CURRENT_USER\Software\Microsoft\Windows\CurrentVersion\RunOnce.
On the right side, right-click and delete the BrowserUpdateCheck value that points to the malicious ransomware file.
Scan your computer with SpyHunter.
In non-techie terms:
You must have opened a wrong file that infected your computer with Ponce.lorena@aol.com Ransomware. Now that you have this program on-board, you need to remove it. If you do not want to do it manually, you can use a powerful antispyware tool that will delete Ponce.lorena@aol.com Ransomware for you automatically. As for your files, you must have at least part of them saved someplace else. Hence, when you remove the infection and the encrypted files, transfer healthy copies back into your PC.