Do you know what Politie Nederland Virus is?
Politie Nederland Virus is a devious threat which uses the respectable name of the Dutch Police to trick gullible Windows users into paying fines for completely bogus cyber crimes. The vicious infection uses the name of the Police to trick you into thinking that the alert, which has locked access to the computer, has been sent to you by authoritative departments. The same strategy has been used to distribute Uw computer is geblokkeerd Virus, Ukash Politie Virus and various other ransomware infections targeted at Dutch Windows users. Overall, you should not hesitate about Politie Nederland Virus removal for one second. How to remove the threat which has locked the computer? How to implement automatic malware removal tools? Should you proceed manually? Continue reading to find answers to all of your questions.
There are hundreds of different versions of the clandestine Politie Nederland Virus, including the most recent one – Policie České Republiky Virus. These infections are distributed with the help of the Urausy Trojan which is currently running on your operating Windows system. It is unlikely to detect and delete this computer threat in time, simply because it can hide from detection and operates surreptitiously from the moment it enters the computer. Some of the most common infiltration channels include spam email attachments, social engineering scams and bundled downloads. If you do not want to worry about Politie Nederland Virus removal – act carefully when online or implement reliable security tools to safeguard the computer.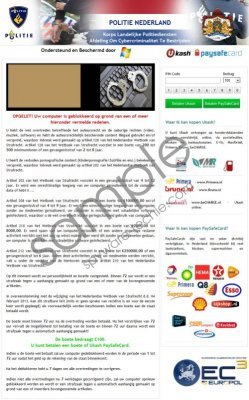 Politie Nederland Virus screenshot
Scroll down for full removal instructions
Once the malignant ransomware is activated, you are presented with such bogus statements:
OPGELET! Uw computer is geblokkeerd op grond van een of meer hieronder vermelde redenen.

U heeft de verboden pornografische content (Kinderpornografie, Zoofilie en enz.) bekeken […]

De boete bedraagt €100. U kunt betalen een boete of Ukash PaySafeCard.
Ignore the fictitious accusations, intimidating credentials of Europol or Politie and threats to remove your personal data or initiate criminal cases against you if you fail to pay the requested fine. All of this is meant to trick you into giving up your money. Ovreall, you will unlock the PC only if you delete Politie Nederland Virus and the Urausy Trojan. Please follow these automatic malware removal guides.
Remove the virus from Windows Vista/7:
Restart the computer.
As soon as BIOS loads up start tapping F8.
Use arrow keys to select Safe Mode with Networking.
Tap Enter.
Follow the provided instructions to install the automatic virus removal tool SpyHuntre.
Remove the virus from Windows XP:
Use the previous removal instructions and repeat steps 1-4.
Click Yes on the appeared "Desktop" alert.
Click on Start.
Launch RUN.
Enter "msconfig" and click OK.
Click on the Startup tab.
Select Disable All and click OK.
Download SpyHunter.
Restart the PC (normally).
Install the automatic ransomware removal tool which will also delete the Trojan and other running infections.
In non-techie terms:
Politie Nederland Virus removal is exceptionally important, if you want to operate your Windows system on your personal command. Ignore bogus fine payment demands and intimidating credentials. All of this is fictitious and should be disregarded. Additionally note that if you have no previous experience, manual removal is not recommended.
Aliases: Politie Virus.