Do you know what Polícia De Segurança Pública Virus is?
If you live in Portugal and your computer is not protected against computer viruses, it can be infected with Polícia De Segurança Pública Virus which is a dangerous ransomware infection also known as the Urausy Trojan. The threat disables access to the computer and displays a misleading full-screen message that contains the emblems of the Portuguese police and European Cybercrime Centre (EC3). The Trojan is capable of changing its interface according to the targeted country, which means that, for example, in Canada your PC could be attacked by Royal Canadian Mounted Police, while in the U.K. the computer users have to deal with United Kingdom Police Virus. Keep in mind that it is the same Urausy Trojan and its different interfaces; hence, you should not believe a word written in the bogus warnings.
In the case of Polícia De Segurança Pública Virus, you are accused of using copyrighted audio or video material or distributing pornographic content:
Você violou «Direitos de Autor e direitos conexos com a lei correspondente» (Vídeo, Música, Software) e uso ilegal ou distribuição de conteúdo protegido por direitos autorais, assim, infrigido o artigo 1780 do Código Penal da República Portuguesa.
Ignore the accusations and do not even think about paying the money required. If you pay the 100 Euro fine via Ukash or Paysafecard, there is no guarantee that you will regain access to the system. Your money is the only target of the criminals who have launched this cunning threat, and if you want to protect your privacy and money, you should remove Polícia De Segurança Pública Virus from the PC as soon as possible.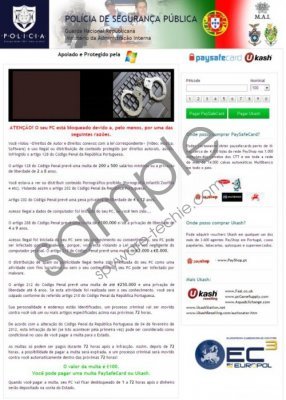 Polícia De Segurança Pública Virus screenshot
Scroll down for full removal instructions
The easiest way to delete Polícia De Segurança Pública Virus is to apply a powerful spyware removal tool which will do everything for you automatically. Even if you know something about malware removal, we advise you to terminate the threat with SpyHunter. This malware prevention tool will detect Polícia De Segurança Pública Virus and remove it immediately, so do not wait and act now to kill the unwanted infection and protect your PC.
How to remove Polícia De Segurança Pública Virus
Windows Vista/7
Restart the computer.
Tap the F8 key as soon as the information about the hardware on your computer (BIOS screen) disappears.
Using the arrow keys, select Safe Mode with Networking and press Enter.
Go to http://www.spyware-techie.com/download-sph and download our anti-malware tool.
Having installed the application, scan the PC and remove Polícia De Segurança Pública Virus.
Windows XP
Reboot the computer.
After the BIOS screen disappears, start tapping the F8 key.
When you access the Windows Advanced Options Menu in a black background, use the arrow keys to highlight Safe Mode with Networking.
Press OK.
On the dialog box, click Yes.
Go to the Start menu.
Launch Run.
Type "msconfig" in the Open box and press OK.
Under the Startup tab, uncheck all startup programs and select Apply.
Download SpyHunter.
Restart the computer.
Run the installer of SpyHunter and scan the PC to remove Polícia De Segurança Pública Virus.
In non-techie terms:
Remove Polícia De Segurança Pública Virus as this threat seeks to deceive you into paying a release fee that is said to be necessary in order to unlock the computer. Do not trust the content of the bogus message presented by the virus and get rid of the threat as soon as possible.
Aliases: Polícia Virus.